Sip n' Cycle Coffee Tour of Finca Azotea
Sample various blends of some of the best coffee Guatemala has to offer
Learn about how coffee is planted, harvested, and produced, from picking to packaging
Ride through the Antigua valley and the trail mazes within the coffee plantation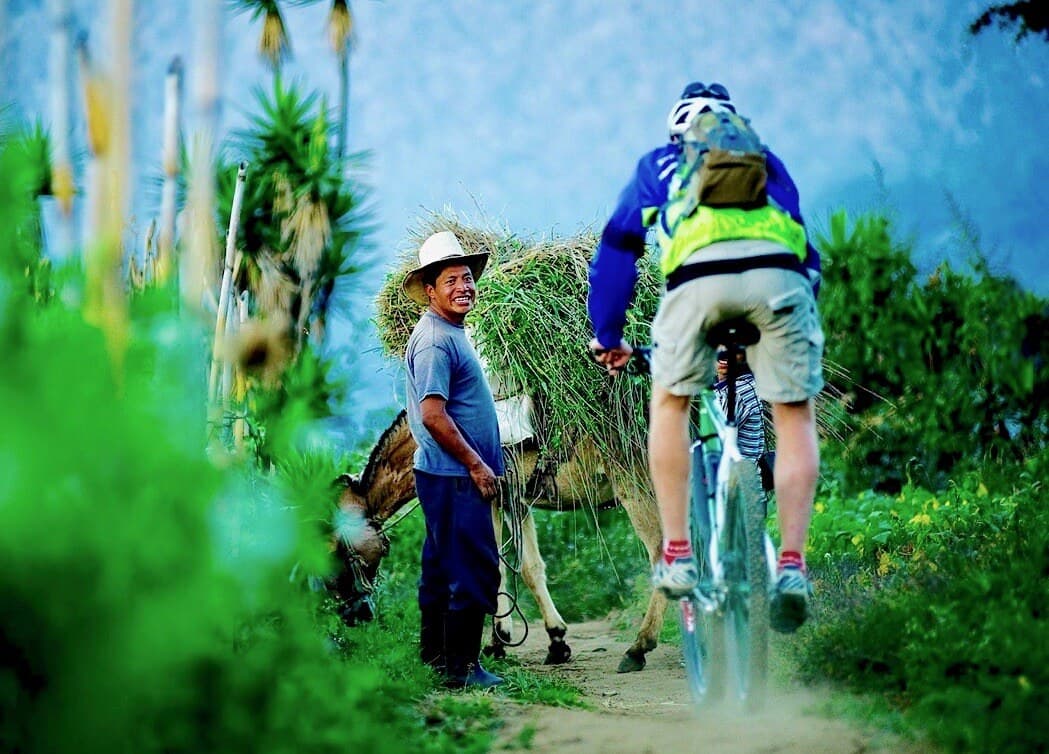 Book Tour Now
Overview
Our ride to Finca Azotea focuses on big-scale coffee processing. Although they are a small growing farm they have a large processing capacity which means they not only process and package their own coffee, but also other smaller growers can pay to have their coffee processed there as well. The farm has a maze of great trails weaving their way through the plantation between the coffee plants and shade trees. The plantation's practice of shade-grown coffee means the farm will be alive with native bird species as well. After biking among the plants we'll head inside to sample the different varieties and blends of coffee and see the whole coffee "deal" from start to finish, picking to packaging.
To experience the small-scale farming side of the coffee business, consider our beginner mountain bike tour to the De la Gente coffee coop.
Details
$50 - $80 per person, depending on group size
Mountain bike
Helmet
Water bottle
Our routes are subject to change depending on local conditions/restrictions and our guides discretion based on each group's skills
What to Expect
Tours begin and end at our headquarters in Antigua. We offer Sip n' Cycle tours from 9:00 AM to 12:30 PM or from 2:00 PM to 5:30 PM.

What Our Travelers Are Saying…
My boyfriend and I were looking for a low-key ride around Antigua and decided on the Sip 'n Cycle tour through Old Town Outfitters. It was great to be able to ride through Antigua and out to La Azotea - a coffee plantation and museum. We had originally planned to visit La Azotea, but biking was a great and easy way to get there. We'd definitely go back to OTO to book rides in the future.
— Caitlin C. from Alexandrai, VA - TripAdvisor
Book Your Adventure
Choose your dates below, or join and existing trip and save with tiered pricing!
We work with a tiered pricing system, which means that the individual price per person depends on the total number of paying customers (or PAX) in the respective group. This allows us to operate without fixed departure days and required minimums. Joining existing trips is usually the best option for solo travelers, as this way we can offer a lower trip price from the start. You can see all our trips on the calendar of confirmed departures. You can keep track of the calendar to see if and which tours we still get going for your preferred trip dates. If you prioritize not making a commitment ahead of time and prefer to book on short notice, this would be the way to go.

That being said, you can of course start a new group yourself for your preferred trip date in order to get the ball rolling and hopefully have other people join over the coming weeks. If you prioritize securing the date and ensuring guide availability, choose this option. We usually charge a deposit of the respective 2-person trip price to get started. If more people join the group, the trip price will come down accordingly. Any resulting price difference we will of course refund you. In case nobody else joins, you would however have to be prepared to pay the full corresponding 1-person price in order for your trip to still go forward.
Select a date to view pricing.
Selected Date:
-
# of People
(1)
Price per Person: $
0
Total Price: $
0