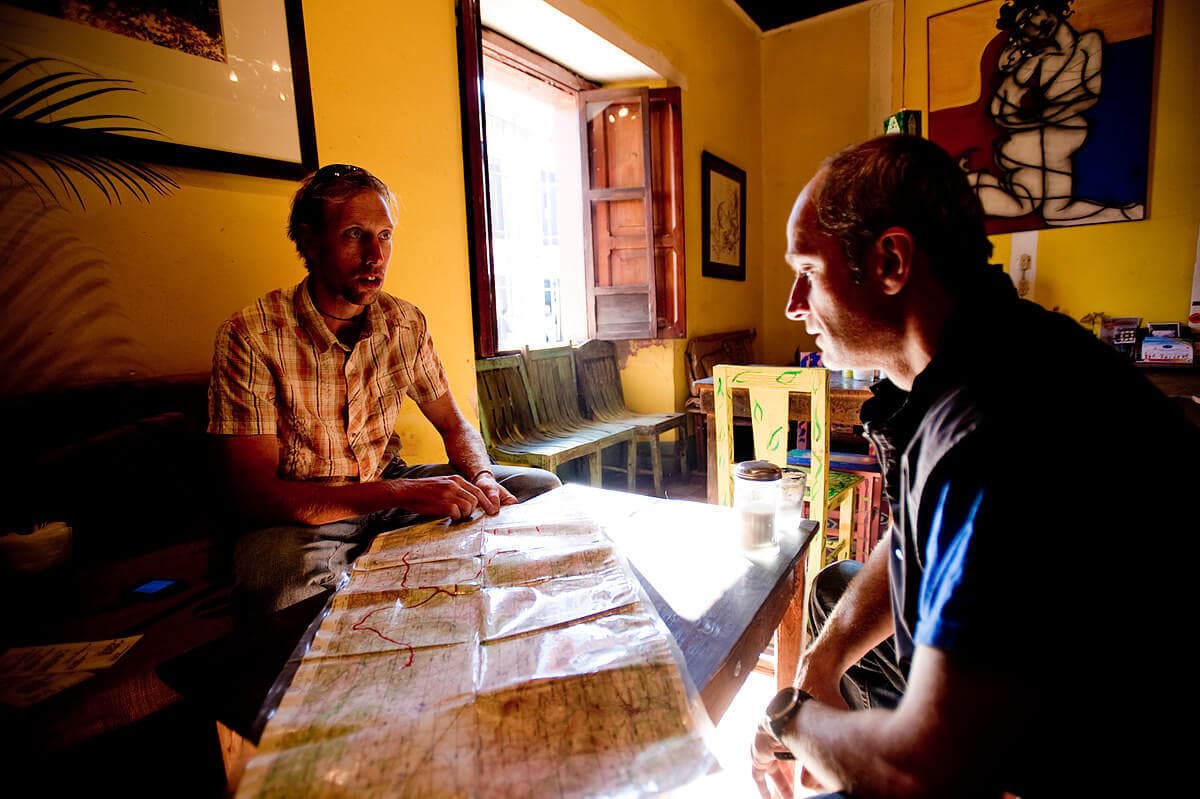 Traveling to Guatemala
Please see our current COVID-19 travel information here.
Check out our General Packing List for suggestions on what to bring for your Guatemala adventure.
Airport Arrival
Airport in Guatemala City, you will make your way through immigration and customs. Once you clear customs the main exit to the airport is directly in front of you. If you booked transport with us, you can dismiss the taxi and shuttle solicitations to Antigua and simply look for your Old Town Outfitter's driver who will be holding a sign with your name.
Money
The currency here in Guatemala is named after the national bird - the elusive "Quetzal" -
pronounced "KETT-SAHL"; plural "KETT-SAHLES"; or just plain "Q's" amongst English-speaking folks (or "gringos"). The exchange rate here in Guatemala for US Dollars is usually $1 = ~Q7-8. ATM's are the best option to pull out local currency often with the best exchange rates. ATM machines can be found all around Antigua and most of the country. Most tourist focused businesses accept credit card now, although some include a surcharge.
Health and Safety
Tap water in Guatemala is not safe to drink, so you'll need to stick to bottled or filtered water. Each hotel you'll stay in will have filtered water where you can fill up your bottles before each days activity. Do not eat fruits or vegetables unless they have been washed, peeled, or cooked – and avoid cooked foods that are no longer piping hot (cooked foods that have been left at room temperature are particularly dangerous).
Any restaurants that Old Town brings you to while on a trip can be considered safe, as well as any food prepared by Old Town staff while out on tour. It is - of course - impossible to guarantee that using best practices will prevent any sort of food-borne illness. It is, however, the best way to avoid upset stomachs (or worse). Just as walking through Central Park in New York at 3:00AM isn't a good idea, common sense practices will help to make your stay here in Guatemala safe and secure.
Weather
Dry season runs from November to March, with the fringe months of October and April also being good times to visit. That being said, we have guests year-round in Guatemala and the rest of the year is very green and lush! The Guatemalan highlands have a great climate, with temperatures typically varying ranging from low 50's°F up to low 80's°F.
Be aware that the nights camping on volcanoes will be cold as you are sleeping at around 4000m above sea level. Make sure to pack enough warm layers for this part. Thermals, fleeces or light down jackets will be fine.
Traveling With Your Bike
Old Town Outfitters has a fleet of high-end hard tail and full suspension Kona mountain bikes. While our bikes are constantly maintained we know that you will be most comfortable riding on your own gear. If you are planning a longer mountain bike holiday with us you might consider flying with your bike.


Old Town Outfitters Info

The Shop
Unless otherwise specified all of our tours start and finish at our Outdoor Shop in central Antigua. Forgot something essential? We likely carry it. We have gear from Patagonia, The North Face, Osprey, Petzel and many more.
Our Tiered Pricing System
We schedule all our hikes according to client preference. With regard to booking, we work with a tiered pricing system, which means that the individual price per person depends on the total number of paying customers in the respective group. This allows us to operate without fixed departure days and required minimums. Usually, joining existing trips, therefore, is our best option for solo travelers, as this way we can offer a lower trip price from the start. You can see all our trips on the calendar of confirmed departures. You can keep track of the calendar to see if and which tours we still get going for your preferred trip dates. If you prioritize not making a commitment ahead of time and prefer to book on short notice, this would be the way to go.
Preferred Trip Dates
You can of course start a new group yourself for your preferred trip date in order to get the ball rolling and hopefully have other people join over the coming weeks. If you prioritize securing the date and ensuring guide availability, choose this option. If more people join your tour, the trip price will come down accordingly and the resulting price difference we will of course be refunded.
Tipping
Tips are not included in the trip cost. These are entirely at your discretion. Your guide will help with advice however, we suggest a good starting point would be: USD$3-$5 a day per person.
---
Have more questions?