Río Dulce Kayak Tour
See the Mayan ruins of Quiriguá, home to the largest and best-preserved centuries-old rock monuments in all of Central America
Explore a cave near Lago Isabal by swimming with headlamps.
Experience Garifuna culture, a mix of African, Amazonian, and South American heritage that creates a unique blend of food, music, religion, and customs.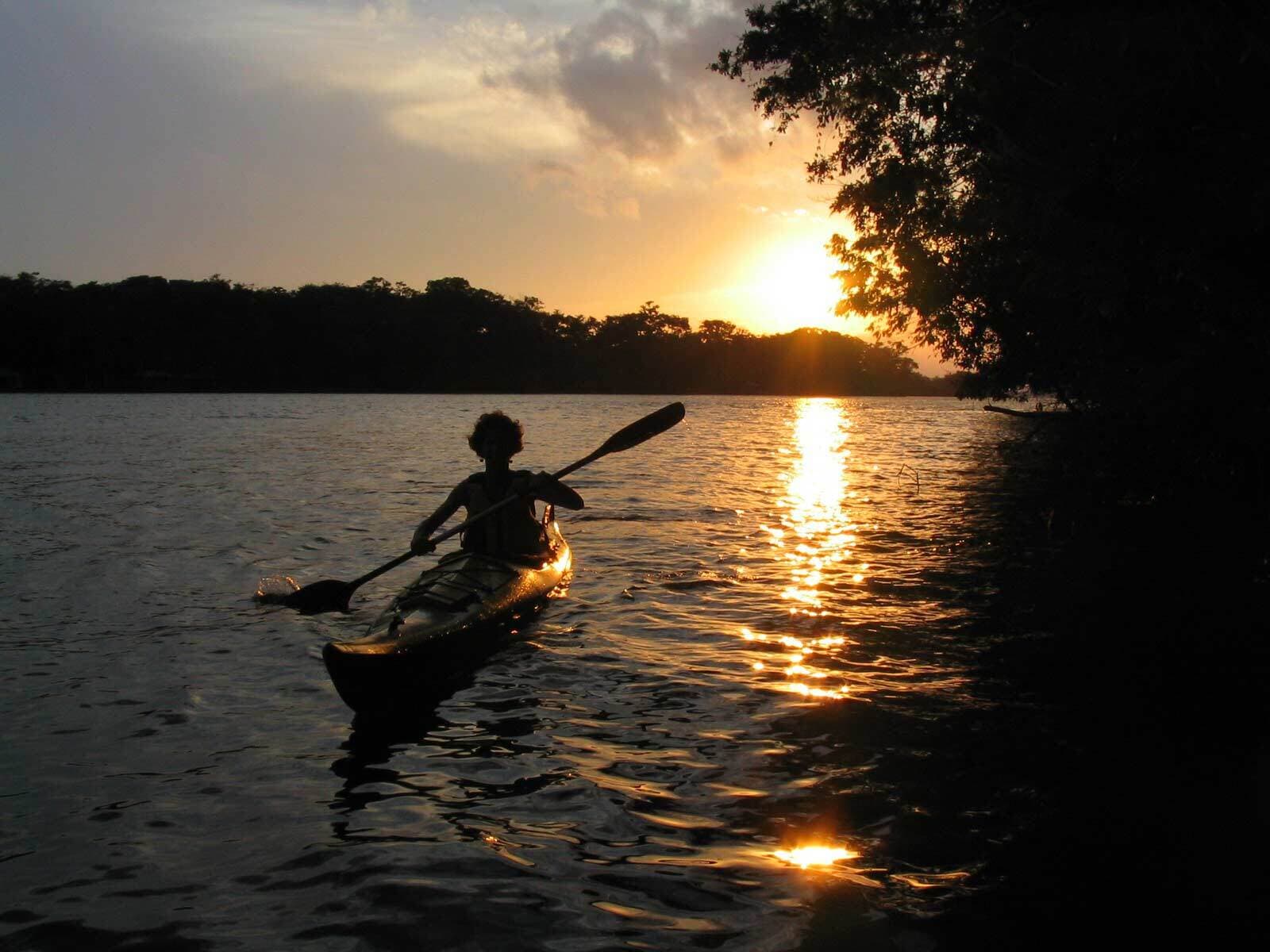 Overview
This 4-day full-on adventure trip will take you from the Río Dulce to the Caribbean coast. We pull out all the stops with this one! Swim river canyons, don headlamps to explore uncharted river caves, and soak under hot waterfalls. We will have two full days of sea kayaking down the Río Dulce through amazing river habitat and pristine nature. This trip brings us to Livingston, Guatemala's only Garifuna village, where we'll check out the local fare and vibrant island-like culture. We end our trip in a riverside jungle bungalow and head out the next morning to a nearby national park to search out the elusive Manatee. On the way back to Antigua we stop at the Mayan Ruins of Quirigua, renowned for its impressively large stelae.
Details
$475 - $540 per person, depending on group size
Private, round trip transportation from Old Town Outfitters/Antigua Guatemala
3 Nights Hotel Accommodations along the beautiful Rio Dulce
All park entrance fees to protected areas, private reserves, Co-ops, etc…
All paddling gear (sea kayaks, paddles, lifejackets, dry bags)
All meals throughout the tour as specified (drinks *not* included)
Full tour of the Rio Dulce by a local bilingual guide with certified 1st Aid training
Walking shoes, Sandals, Swimsuit & Towel
(1-2) Changes of clothes + Rainjacket
Personal Toiletries & medications
Camera, Hat, Sunglasses, Sunscreen, Insect Repellant
2L bottle for carrying water
Flashlight
TIP for great service from your Old Town Guide!
What to Expect
Day 01:
A hotel pick-up at 05:00 hrs begins our group's 6-hour transport from Guatemala's mountainous West out to her tropical East. After a short breakfast on the outskirts of Guatemala City, we continue heading northeast through the morning, traversing a wide range of diverse climates, terrain and topography. We'll enter the Río Dulce as we cross over Central America's longest bridge, and continue the last 20 miles of our ride to arrive (~12:00 hrs) at Finca Paraiso on the shores of Lago Izabal, Guatemala's largest freshwater lake. Finca Paraiso is both idyllic and unique – a tropical stream inlet of the lake where thermally heated waterfalls cascade into a cool and deep natural swimming pool. Lunch is prepared for the group here, and afterward, our group will follow the river upstream for ~20 minutes until we arrive to the mouth of a submerged cave. Group members will explore this local oddity by swimming (with headlamps of course!) as far inside as they wish. Afterward, water-logged and tired, we head back towards the mouth of the Río Dulce and check-in at our waterfront cabanas at the old tropical plantation Hacienda Tijax. We'll enjoy a delicious seafood dinner at our hotel and sleep peacefully our first night on the river. (Meals: B, L, D)
Day 02:
Breakfast and coffee are served at 08:00hrs at our hotel, and after a 45-minute boat ride downstream through the beautiful Golfete, we will leave our luggage with our boat driver and get settled into our kayaks for the day. The lagoons and creeks throughout the Biotopo Chocon Machacas Manatee Reserve are full of lagoons, creeks, local birds and wildlife. We'll spend all morning in this playground for paddlers, and arrive (with appetites) around mid-day at a tasty local river restaurant renowned for the region's famous tapado - fresh seafood soup. After lunch, our group continues further downriver, stopping off at natural hot springs and caves for a swim and rejuvenating mineral soak. Further downstream we will follow a small tributary (Rio Tatin) up to the riverside dock of our hotel, and spend the evening enjoying the symphony of jungle sounds that fill the air after nightfall. (Meals: B, L, D)
Day 03:
Paddlers up before sunrise will have a chance to spot some of the many beautiful birds that commune at our hotel's riverside dock, and breakfast for our group is served at 08:00 hrs. After preparing our kayaks and packs for the day – our first stop is just upstream at the local indigenous association Ak' Tenamit – where artisans from Río Dulce communities employ sustainable natural resources (i.e. banana leaves and coconuts) to fashion the unique handicrafts available for sale. We continue paddling downstream for the morning through the steep limestone canyons of the lower Río Dulce, finally arriving to the river's mouth at the coastal town of Livington (~13:00hrs) after a long morning on the water. We'll pick up some great Caribbean seafood in a favorite local restaurant, and have the rest of the afternoon to walk around this relaxed and funky beach community – the only town in Guatemala which hosts Caribbean Garifuna culture. We'll be sure to search out a delicious restaurant for dinner – one that satisfies the hunger we earned today on the river and provides us cool drinks to beat the coastal heat. Our waterfront hotel in Livingston is just a short walk from town center. (Meals: B, L, D)

Day 04:

After breakfast, our group will embark at 09:00 hrs for our ~1½ hour boat ride back upriver to our transport. We'll load up the van, wave goodbye to the coconut trees and river otters, and head back westward towards the Guatemalan highlands. We break up today's drive with a visit to the Mayan ruins of Quiriguá – home to the largest and best-preserved centuries-old carved stelae (rock monuments) in all of Central America. We'll enjoy lunch on the road, and arrive back to Antigua late in the afternoon/evening depending on road conditions. (Meals: B, L)
What Our Travelers Are Saying…
Mayan Highlands & Rio Dulce paddle tour
excellent company, top professionals. Trips were very well organised, the guides were great on both tours. we thoroughly enjoyed our trip and highly recommend these guys.
— Ivan K. Riga, Latvia - Tripadvisor