Antigua to Lake Atitlan 3 Day Trek
3 full days of hiking across the culturally rich regions connecting Antigua and Lake Atitlan
Experience the backcountry scenes most tourists don't get to see
Arrive to the beautiful shores of Lake Atitlan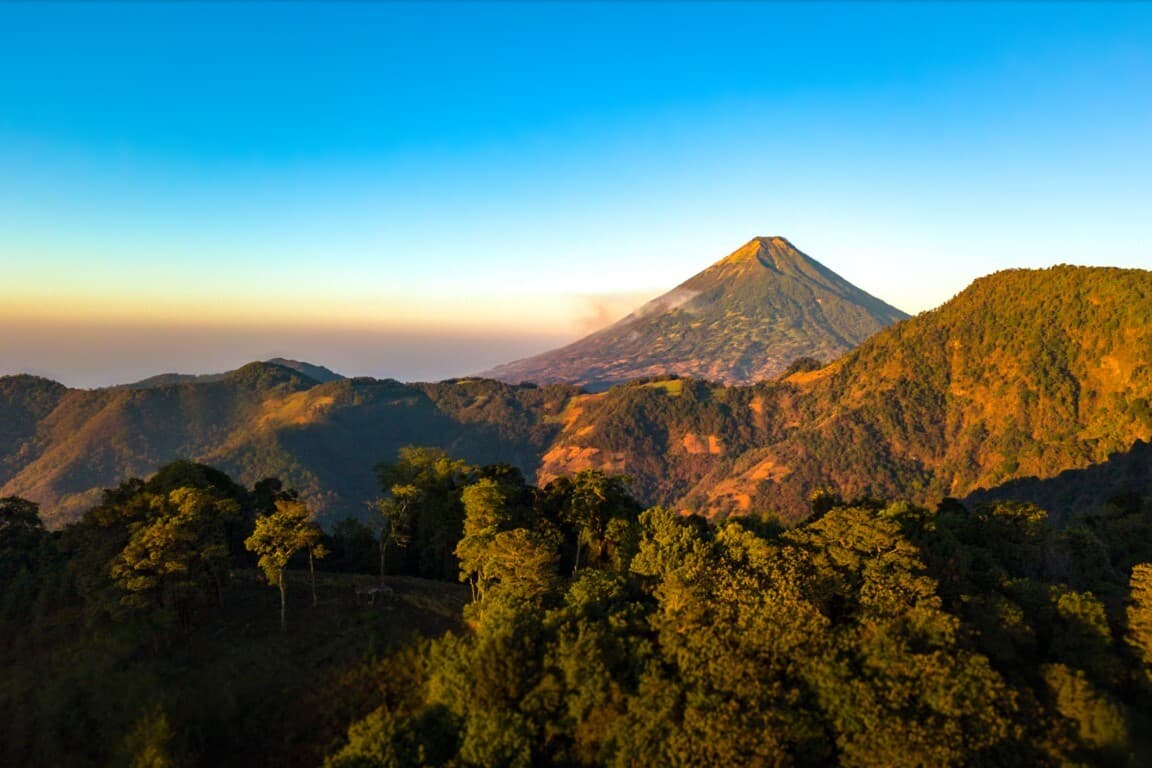 Overview
This is a three day, two night trek between two of Guatemala's most beautiful and inspiring
destinations: Antigua and Lake Atitlán. Along the way you'll walk through cloud forest canopy
and coffee fincas, be immersed in the sights and sounds of Guatemala's living Mayan culture and
communities, and be amazed at the kindness and warmth of its people.
Leave the heavy lifting to us! Each day you'll travel light while we move camp and the heavy
gear from one breathtaking destination to the next.


Return from this escape inspired by both the rugged beauty of the Guatemala as well as the
warmth and loveliness of the people.
Details
$300 - $500 per person, depending on group size
+2,745 mtrs / -3,618 mtrs
Camping gear (tent, sleeping bag, sleeping pad)
Professional bilingual guide(s)
All meals as indicted in itinerary
Ground transportation to trailhead
Support vehicle
Hiking boots or trekking shoes (no sandals)
Daypack with rain cover
One warm layer and/or windbreaker
Rain jacket (May thru October)
Personal Toiletries and/or medications
Camera, Hat, Sunglasses & Sunscreen
Two liters of water (minimum)
Flashlight
TIP for great service from your Old Town Guide!
What to Expect
Day 1: Hike to Pachut Campsite
This morning we will shuttle out of Antigua to the trail head where you and your professional guide will begin the beautiful trek towards Lake Atitlan.
Our first few hours of trekking takes us up nearly 1000 ft / 300mtrs as we climb into a protected area before beginning a long descent through forest and agricultural fields into the La Vega River valley,
more than 3000 ft / 915mtrs below. Following lunch, we cross a hanging foot bridge over the river (allowing you to embrace your inner Indiana Jones!) before a challenging yet spectacular afternoon 2000 ft / 600 m climb up through pine forest and local coffee farms to arrive at our Fuego Camp by late-afternoon.
Time to setup camp, kick off your boots, and take in the panoramic view that includes a first row seat to Fuego Volcano, one of the world's most active volcanoes that's been going regularly since the Spanish conquest. With luck, it will light up the night sky with plumes of molten lava. Around the campfire, we'll enjoy dinner and stories before calling it an evening.
Distance: ~16 kms
Elevation Gain/Loss: ~ +1,390 mtrs / -1,439 mtrs

Meals included: Lunch, Dinner


Day 2: Hike from Pachut to Chuinimachica
Today you will be immersed in the finest natural scenery that Guatemala has to offer. A morning push takes us to the highest point of the trek, just over 9,040 ft / 2,755mtrs. Then we follow a pristine
ridgeline with panoramic views of six volcanoes and cloud forest that reveals unique plants and birds.

Along the way, you will have the opportunity to see local farmers tending their terraced fields and learn about traditional agricultural practices. A long, gradual descent leads us to our trail lunch location (and a short siesta) before we finish the day by walking into Agua Camp, named in honor of Lake Atitlán, which can be seen in the distance below.
After relaxing a bit, we venture into the local Mayan community of Chuinimachica to setup camp for the night.
Distance: ~14 kms
Elevation Gain/Loss: ~ +746 mtrs / -636 mtrs
Meals included: Breakfast, Lunch, Dinner
Day 3: Hike into Lake Atitlan
The final day of our trek begins with a 2,500 ft / 760mtrs descent into the La Madre Vieja River valley that weaves through a patchwork of traditional agricultural fields and small villages. Once in the valley, we visit a picturesque coffee finca to learn about the planting, harvesting and processing of small-batch specialty coffee (and of course, sample some as well).
Following the coffee tour, we cross the river on another hanging footbridge before a short ascent that takes us up to the rim of Lake Atitlán and expansive views of the water below and three massive
volcanoes that surround it.
From there, a final descent through terraced fields of flowers and vegetables takes us to the lakeside village of San Antonio Palopó to conclude the trek. Congratulations…you made it!
Distance: ~12.5 kms
Elevation Gain/Loss: ~ +609 mtrs / -1,543 mtrs
Meals included: Breakfast, Lunch


What Our Travelers Are Saying…
Amazing Hike Between Lake Atitlan and Xela
We went on the Western Highlands Maya Trail hike starting at Lake Atitlan and ending at hot springs in Xela. It's an absolutely amazing hike through some of the most beautiful landscapes of Guatemala. The trip was fully serviced and our guide provided us with delicious meals and snacks throughout our trip. The logistics were super smooth and everything worked out perfectly! Thanks again Old Town for everything and I definitely recommend this trip to anyone visiting Guatemala!!
— Matt C. - TripAdvisor