Rock Climbing Tour at Lake Amatitlán
Hike up the magnificent rock walls on the shores of Amatitlán, Guatemala's forgotten lake
For beginners, discover the excitement and challenge of top-rope climbing
More experienced climbers can choose from over 20 routes that include everything from 5.9 cracks to 5.12 open faces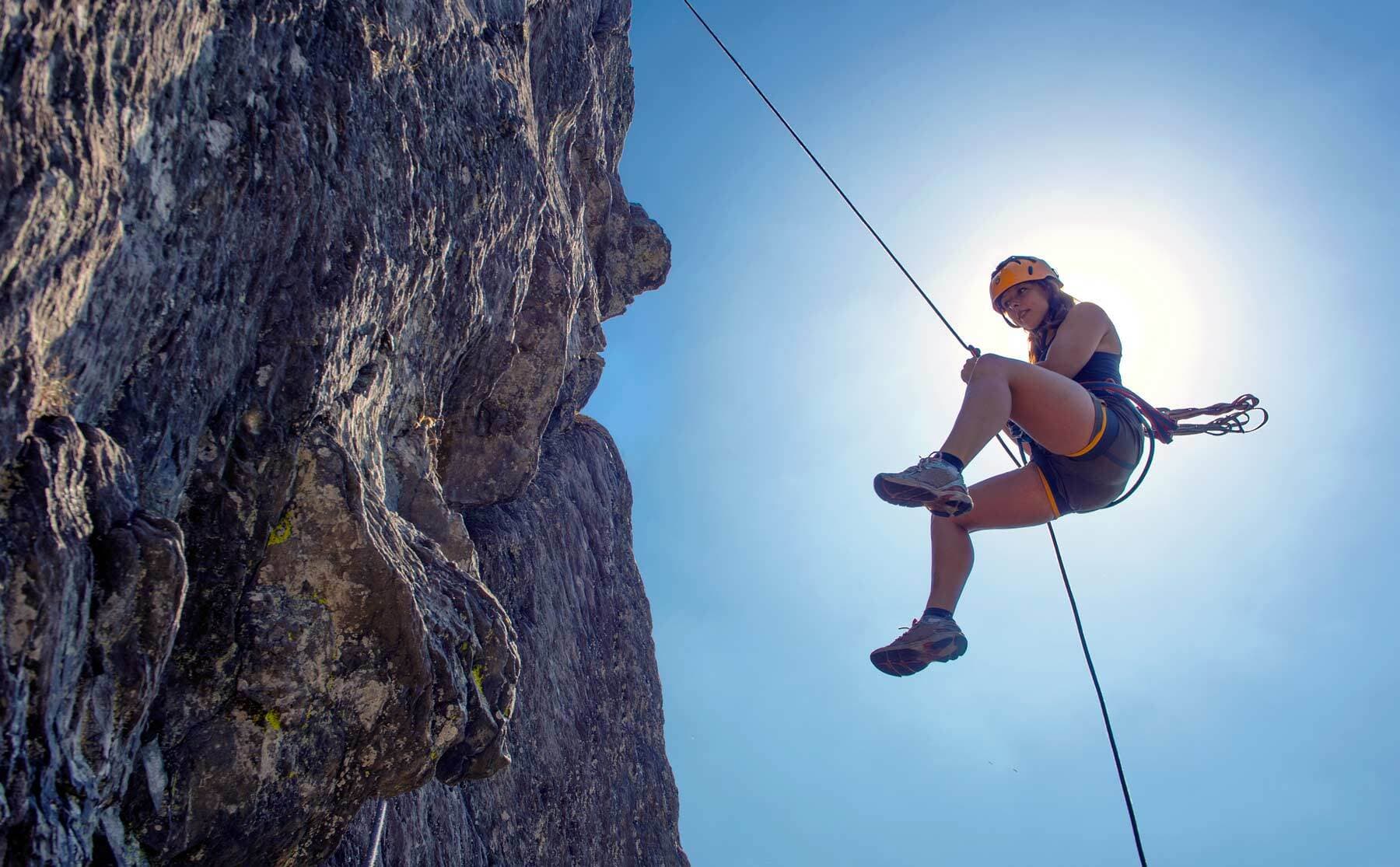 Overview
Rock climbing in Guatemala is a unique chance to explore virtually virgin climbing spots. Our professional guides lead climbing trips to every corner of Guatemala in search of the country's best rock climbing. Whether you are a seasoned sport climber or just learning to climb on a top rope we'll show you the way.
In this tour, hike up the magnificent rock walls on the shores of Amatitlán, Guatemala's forgotten lake, and spend the day enjoying great climbs and beautiful views of the nearby smoldering Volcán Pacaya.

Beginners can discover the excitement and challenge of top-rope climbing. Old Town guides will teach you basic climbing techniques, how to rappel down a 40+ft rock face and how to safely and securely set up a top-rope so you can climb until your arms fall off!

More experienced climbers can choose from over 20 routes that include everything from 5.9 cracks to 5.12 open faces. Top rope or lead climb – your choice.

Details
$60 - $100 per person, depending on group size
Beginner, Intermediate, and Advanced routes are available
Round trip transportation from Old Town Outfitters office in Antigua
All climbing gear (including shoes)
Fresh fruit and snacks provided at the climb site
Guided climbing by a local, bilingual guide with certified 1st-Aid training
Close-toed shoes (for short hike to climb-site)
Daypack with rain cover
One warm layer and/or windbreaker
Rain jacket (May thru October)
Personal Toiletries and/or medications
Camera, Hat, Sunglasses & Sunscreen
Two liters of water
TIP for great service from your Old Town Guide!
What to Expect
Our group meets at Old Town Outfitters Shop in Antigua at 08:00 hrs – where drinking water, bathroom facilities and retail outdoor equipment are available for our clients. Our drive to the cliffs on the shores of Lake Amatitlán or Esciuntla takes around 1-hour in private transport from Antigua to rock face.
What Our Travelers Are Saying…
Had a great time on a half day rock climbing trip with Old Town. Our guide, Oseas, was wonderful. He drove us an hour out to Lake Amatitlan where we climbed several of the local routes. The lake from the top of the climbs were stunning. Oseas was great to chat with and was a great guide as well in setting up and coaching us through the climbs. We are still relatively new at climbing outdoors so this was a great experience.
— Winnie Alarcon from New York City - TripAdvisor