Pacaya Volcano Day Hike and Thermal Spa
Traverse unique volcanic-rock landscapes and view lava formations
Soak in a thermal spa thats natural springs are heated by the volcano
Roast marshmallows over geothermal hot spots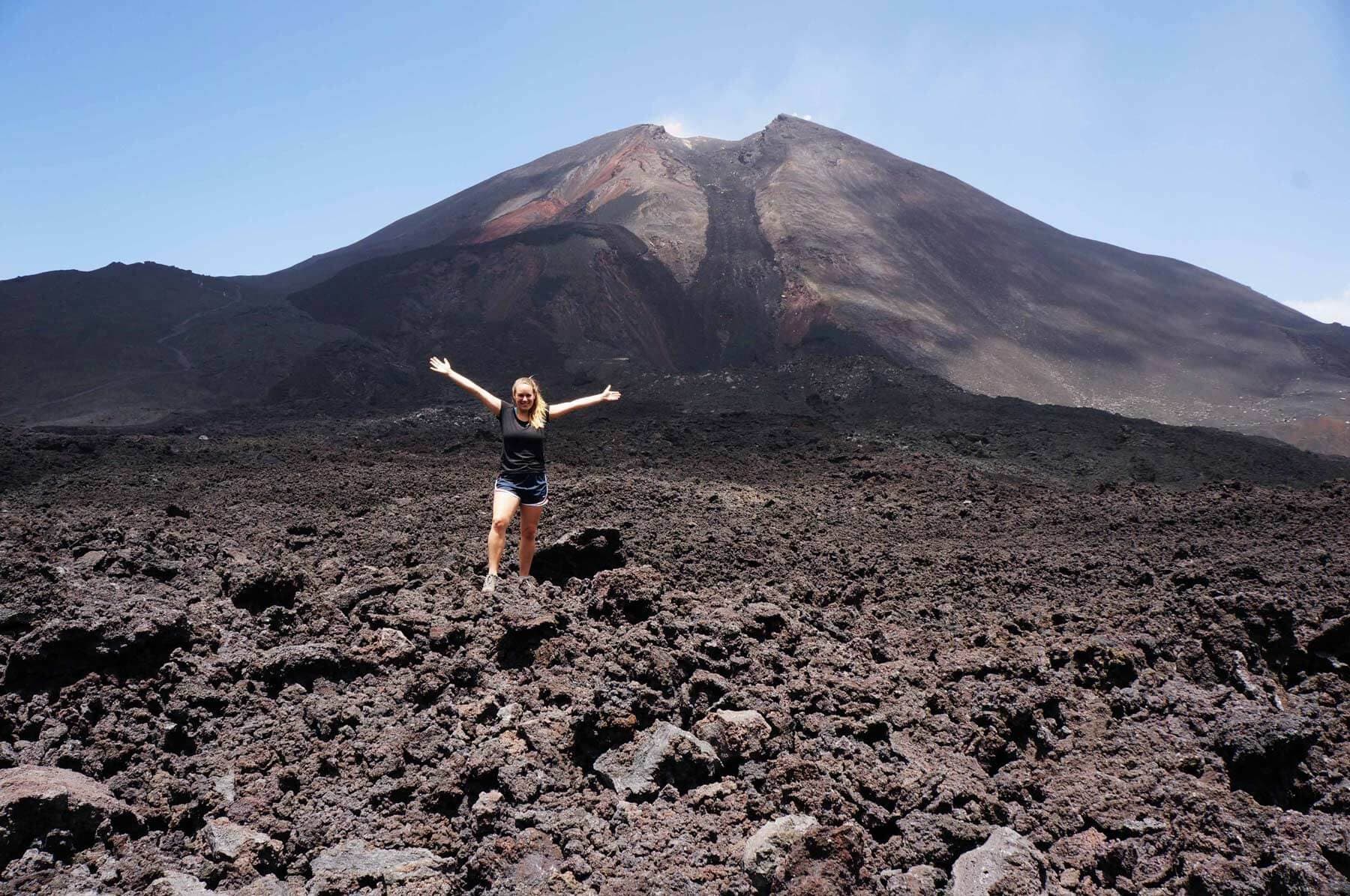 Book Tour Now
Overview
Combine the Pacaya Volcano day hike with soaks in natural thermal springs that are heated by the linked underground activity generated by the very volcano you'll have just climbed!

Details
$195 - $275 per person, depending on group size
Round trip transportation from Old Town Outfitters office in Antigua
Transport to the thermal spa
All park and spa entrance fees
Freshly prepared picnic lunch or dinner, and snacks served on the mountain
Full tour of Volcan Pacaya by a local, bilingual guide with certified 1st-Aid training
Spa therapies: Thermal Circuit, Combined Steam and Hydrotherapy Bath
30-minute massage
Access to natural swimming pools at the spa
Towel and bathrobe at the spa
Fruit smoothie and snack at the spa
Hiking boots or trekking shoes (no sandals)
Daypack with rain cover
One warm layer and/or windbreaker
Meals in the restaurant at the spa
Rain jacket (May thru October)
Personal toiletries and/or medications
Camera, hat, sunglasses & sunscreen
Two liters of water
TIP for great service from your Old Town guide!
What to Expect
Hike:
Our group meets at Old Town Outfitters Shop in Antigua at 7:00 AM for the volcano/spa combo tour. Drinking water, bathroom facilities and retail outdoor equipment are available at the shop.
Our drive to the trailhead is just over 1-hour in private transport from Antigua to the Pacaya Park Office. As our group moves up the myriad of trails on the mountain, Guatemala's impressive vistas open up before us. As we reach the base of the caldera, our guide will direct the group through the rugged dried lava fields.
No matter what conditions we encounter on the mountain, our group will have the opportunity to traverse unique volcanic-rock landscapes as we ascend towards the peak. Here the group will stop for a freshly prepared picnic to enjoy along with views of nearby volcanoes Agua, Fuego and Acatenango. There will be plenty of opportunities to explore geothermal hot spots on the cooled lava formations – which are always available to help roast marshmallows!
After our hike down to the trailhead, our group will take a private transport to a thermal spa whose natural springs are heated by the linked underground activity generated by the very volcano we just climbed.
Spa:

Here you will start first with a Thermal Circuit that consists of immersing the body for short periods of time in natural thermal pools of varying temperatures, moving from hot to cold. The thermal pools range in temperature from 75°F to 106°F or 24°C to 41°C.
Next, you will move onto a Combined Steam and Hydrotherapy Bath where you can fill your own personal tub with thermal water at your desired temperature, including a cold water shower and a steam bath. Your spa therapy will come to an end with a relaxing 30-minute massage.
Afterward, you will have plenty of time to return to the natural swimming pools and enjoy a snack and fruit smoothie. Our group returns to Antigua by private transport to arrive in town at ~7:00 PM.
What Our Travelers Are Saying…
Well, I decided to treat myself to a overnight camp and spa. I had two really great guides Luis and Alejandro.

The spa was incredible. 12 pools, indoor beach, individual private saunas it was beyond what I could've imagined.

I would highly recommend the hike (Pacaya which I would rate 4 out of 10 in difficulty and can be done by anyone of reasonable fitness in my opinion)
— 86freespirit86 from Manchester, United Kingdom - TripAdvisor
Book Your Adventure
Choose your dates below, or join and existing trip and save with tiered pricing!
We work with a tiered pricing system, which means that the individual price per person depends on the total number of paying customers (or PAX) in the respective group. This allows us to operate without fixed departure days and required minimums. Joining existing trips is usually the best option for solo travelers, as this way we can offer a lower trip price from the start. You can see all our trips on the calendar of confirmed departures. You can keep track of the calendar to see if and which tours we still get going for your preferred trip dates. If you prioritize not making a commitment ahead of time and prefer to book on short notice, this would be the way to go.

That being said, you can of course start a new group yourself for your preferred trip date in order to get the ball rolling and hopefully have other people join over the coming weeks. If you prioritize securing the date and ensuring guide availability, choose this option. We usually charge a deposit of the respective 2-person trip price to get started. If more people join the group, the trip price will come down accordingly. Any resulting price difference we will of course refund you. In case nobody else joins, you would however have to be prepared to pay the full corresponding 1-person price in order for your trip to still go forward.
Select a date to view pricing.
Selected Date:
-
# of People
(1)
Price per Person: $
0
Total Price: $
0