Nebaj to Todos Santos Hut-to-Hut Trek
5 full days of hiking across the remote regions of Quiche and Huehuetenango including areas only accessible by foot
Spend four nights in community hostels that dot the highlands and sit around the hearths and break bread with local families
Visit Todos Santos, a cowboy town and one of the few remaining villages where men wear the traditional village garb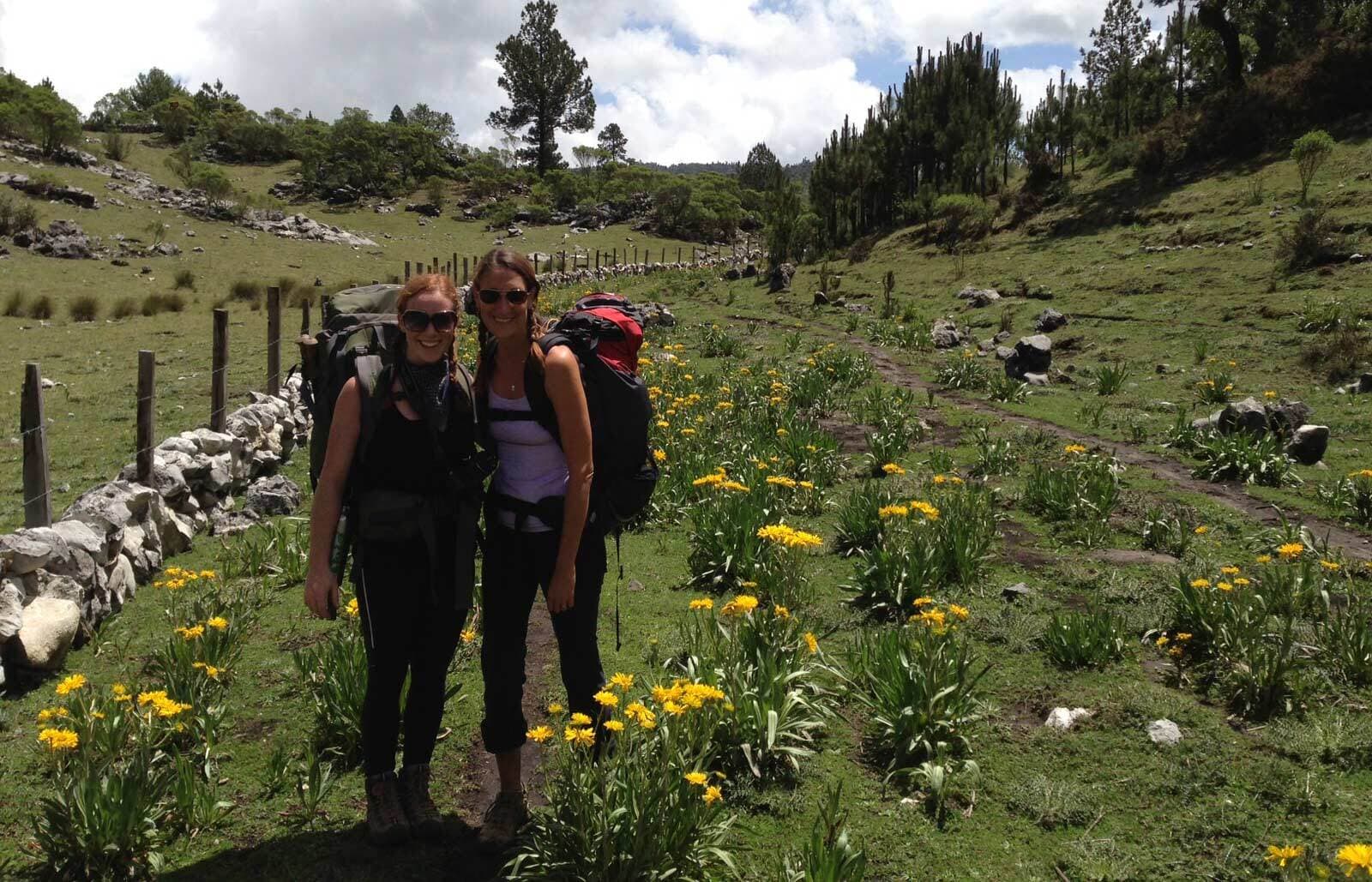 Overview
Hike Guatemala's top trekking route and experience community-based tourism at its finest.

The Nebaj to Todos Santos Trek offers 5 full days of hiking across the remote regions of Quiche and Huehuetenango including areas only accessible by foot. Explore small seemingly forgotten rural Mayan villages and break bread with local families. Much of the route traverses the Guatemala altiplano, Spanish for high plains, which regularly reaches heights above 10,000 feet (3,048 meters).

We offer 2 tours to experience this classic route: Hut-to-Hut and Hut-to-Hotel. For added comfort and luxury, consider the Hut-to-Hotel trek which includes two nights at local boutique hotels.
Hut-to-Hut Trek
The trek begins in the Ixil Mayan stronghold of Nebaj and finishes in the remote mountain village of Todos Santos, famous for its Day of the Dead festivities. Nightly accommodations rely on the gracious hospitality of the local communities we pass through. Spend four nights in community hostels that dot the highlands and sit around the hearths and break bread with local families.
Details
The Nebaj to Todos Santos trek of Guatemala sees far less tourism than most areas and offers unparalleled community-based tourism experiences full of nature, adventure, and local culture.
$450 - $799 per person, depending on group size
Round trip transportation from Old Town Outfitters office in Antigua
All food and lodging
Hiking boots or trekking shoes (no sandals)
Daypack with rain cover
One warm layer and/or windbreaker
Rain jacket (May thru October)
Personal Toiletries and/or medications
Camera, Hat, Sunglasses & Sunscreen
Two liters of water (minimum)
Flashlight
TIP for great service from your Old Town Guide!
What to Expect
DAY 1: Nebaj to Xexocom
Today is a long day as we start with an early morning 6-hour drive out to Nebaj. Nebaj, the main town of the Ixil Triangle is rich in culture and history. This region of the country was the hot seat of the rebellion during the country's nearly 35-year civil war.
Our trek today is to the neighboring village of Acul, the first of Guatemala's model villages. As a way to undermine the strength of the Mayan peasant farmers, the Guatemalan military rounded up various Mayan groups of different ethnic backgrounds and forced them to live together under the watchful eye of the Government. Settlements like this were thus called model villages. From there, we continue on to Xexocom, a tiny village set right underneath the Chortiz plateau. Our overnight there is what is known as a salon comunitario, a multi-purpose building that is a classroom by day and serves as a haven for weary travelers by night.
DAY 2: Xexocom to Pajuil País
Today's hike will take us up a long climb of 2 hrs covering 2,625 feet (800 meters onto the Chortiz plateau. Once up there, we will enjoy beautiful cross country walking through farm fields, forests, and local towns. We'll trek through the remote Mayan settlement of Chortiz, a town completely isolated from the world with no connections by road or power. The town is a pure picture of life for the local Maya in these highlands and a very unique place to visit. Continuing across the altiplano at nearly 10,826 feet (3,300 meters), we'll finally start our descent to the mountainside community of Pajuil Pais where we'll overnight in a community hostel.
DAY 3: Pajuil País to Chabal
Today's objective will be to cross the Aguacatán Ravine. We hike across the plateau and down into the valley before climbing back out, beginning our 8-mile (13-kilometer) push to the Chancol and San Nicolás area. Here we catch local transport across the densely populated Paquix plateau to the community of Chabal, where we overnight.

DAY 4: Chabal to Tuicoyg
Today will again start with a short pick-up truck ride across the densely populated Paquix plateau to the community of Chabal where a stunning piece of the trail climbs up to the high ridge home to the highest two non-volcanic peaks of Guatemala: La Torre at ~12,467 feet (~3,800 meters) and Cerro Los Cuervos at ~12,631 feet (~3,850 meters). Once on the plateau the hike is mostly flat as we traverse the open expanse known as the Devil's Flats on our way to the village of Tuicoyg.
DAY 5: Tuicoyg to Todos Santos
Our final walk in this range will drop us off the high plateau and down into the town of Todos Santos, a cowboy town and one of the few remaining villages where men wear the traditional village garb. This rocky trail is virtually all downhill, snaking its way out of the mountains down through the thick pine forests that characterize the region. We will explore this colorful and vibrant village in the afternoon and spend the night here before our transfer to Antigua the following morning.
*DAY 6: Transfer Todos Santos to Antigua

*For a more expedited trip, you could shuttle back from Todos Santos to Antigua on Day 5 upon arrival into town. This makes for a long day and does not allow for much time in Todos Santos, but does make the trip a bit less expensive.
Trail Map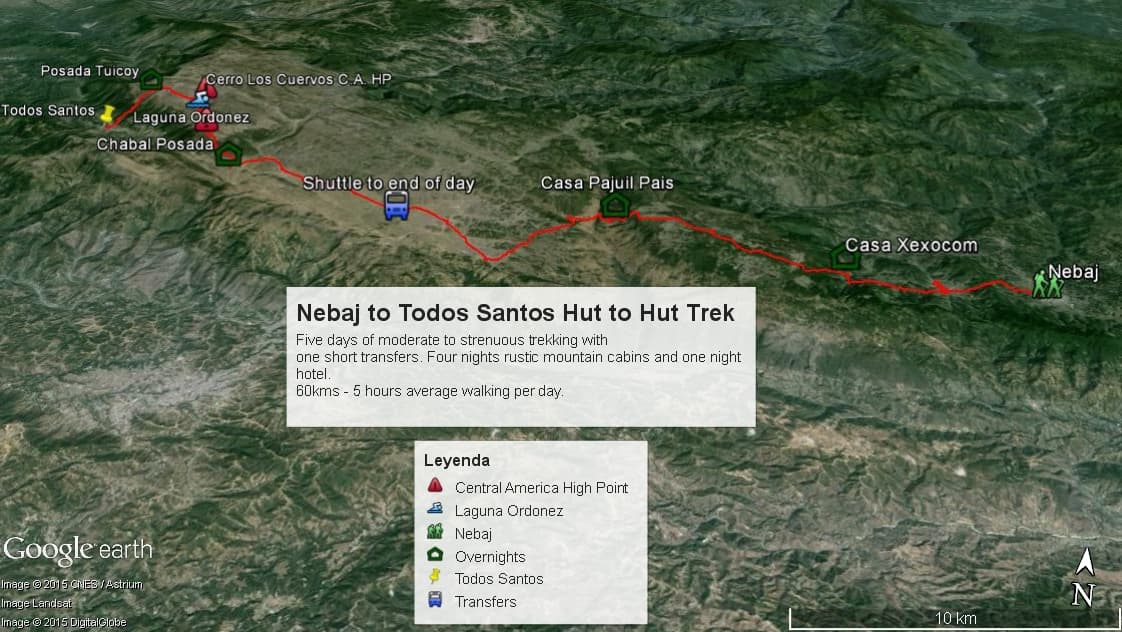 What Our Travelers Are Saying…
My boyfriend and I did this 5 day hike with Pepien and had an absolute blast. The hike was amazing, and the access to these remote areas was a very wonderful experience.

Our guide was awesome and the trip itself was well planned and very interesting. Can't recommend this tour enough!
— Meghan C. - TripAdvisor