Las Tierras Altas Ride
Cultural tour through the Guatemalan countryside and native pueblos
Ride doubletrack and singletrack through varied terrains and agricultural areas
Trails originally formed over 500 years ago have since been eroded into tunnels of tight twisty fun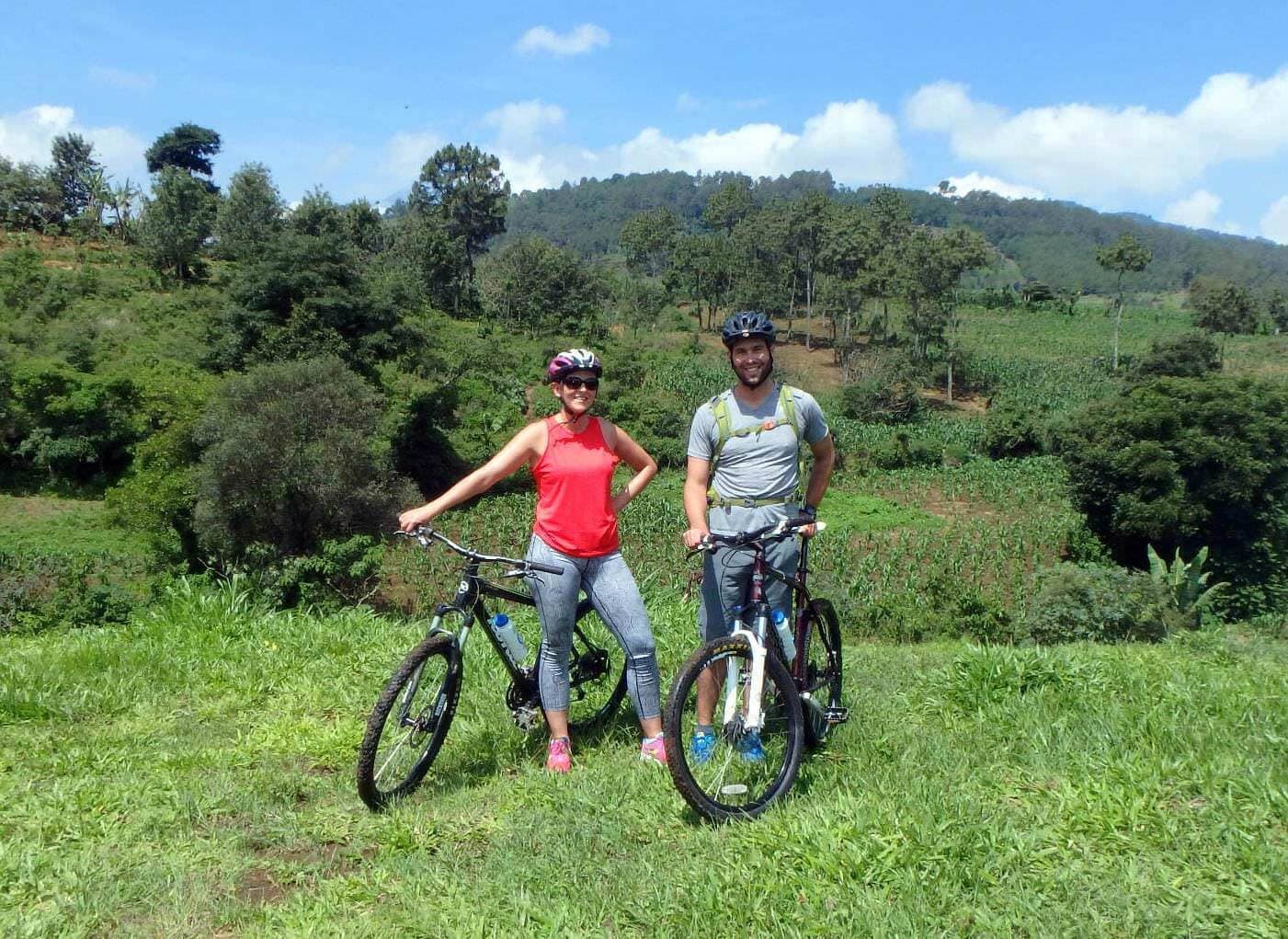 Book Tour Now
Overview
This mountain bike tour is perfect for groups of varying skill levels. Come for a mountain biking adventure in the Guatemala Highlands.

Details
$56 - $85 per person, depending on group size
Mountain bike
Helmet
Water bottle for you to keep
Shuttle up to trailhead outside of Antigua
Our routes are subject to change depending on local conditions/restrictions and our guides discretion based on each group's skills
What to Expect
The trip starts at either 8:00 AM or 1:00 PM and departs from our headquarters in Antigua.
We will shuttle 30 minutes outside Antigua through the town of Parramos and the small village of Chirijuyu to meet our trailhead. From there we begin an introductory climb followed by a 1.8 mile (3 kilometers) jeep track descent through coffee and avocado plantations. We will ride smooth trails through agricultural operations and then cross the rustic town of San Andres Itzapa. From there we will start our second climb of 2.5 miles (4 kilometers) up through the town on paved and cobblestoned roads before entering a pine forest at 6,400 feet (1900 meters). After crossing a small ravine we'll begin a smooth descent and fast singletrack through pine trees. This will exit into the plains of Parramos where we'll cross fields of corn, fruit, beans and greenhouses as we wind along agricultural singletrack. The final descent follows trails originally formed over 500 years ago that have since been eroded into tunnels of tight twisty fun. Exit in the town of Pastores and cycle the gradual paved downhill back to Antigua!

What Our Travelers Are Saying…
Fantastic biking around Antigua. I did a half day mountain biking trip in the las Tierras Altas around Antigua. Milton was an excellent guide and the ride was spectacular. Definitely my best experience in Guatemala so far. Highly recommended.
— Carly063 from Montreal, Canada - TripAdvisor
Book Your Adventure
Choose your dates below, or join and existing trip and save with tiered pricing!
We work with a tiered pricing system, which means that the individual price per person depends on the total number of paying customers (or PAX) in the respective group. This allows us to operate without fixed departure days and required minimums. Joining existing trips is usually the best option for solo travelers, as this way we can offer a lower trip price from the start. You can see all our trips on the calendar of confirmed departures. You can keep track of the calendar to see if and which tours we still get going for your preferred trip dates. If you prioritize not making a commitment ahead of time and prefer to book on short notice, this would be the way to go.

That being said, you can of course start a new group yourself for your preferred trip date in order to get the ball rolling and hopefully have other people join over the coming weeks. If you prioritize securing the date and ensuring guide availability, choose this option. We usually charge a deposit of the respective 2-person trip price to get started. If more people join the group, the trip price will come down accordingly. Any resulting price difference we will of course refund you. In case nobody else joins, you would however have to be prepared to pay the full corresponding 1-person price in order for your trip to still go forward.
Select a date to view pricing.
Selected Date:
-
# of People
(1)
Price per Person: $
0
Total Price: $
0