3-Day Lake Atitlán Pedal & Paddle
Spectacular views of Volcanoes San Pedro, Tolimán, and Atitlán
Kayak and swim in the azure-blue waters of Atitlán
Stay at the cliffside hotel Casa del Mundo accessible only by boat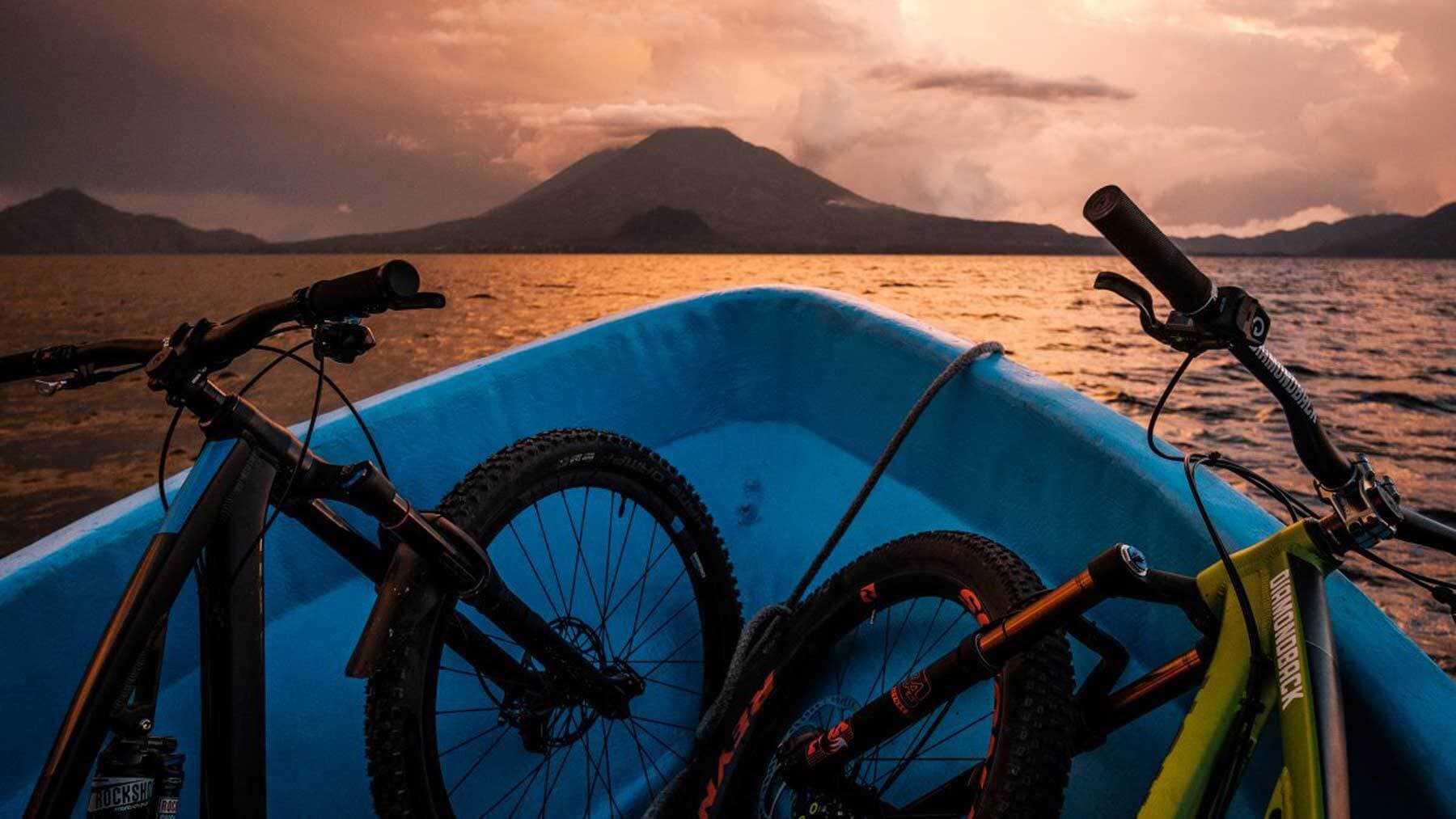 Book Tour Now
Overview
This three-day trip to Lake Atitlán offers a great mix of biking, hiking, and paddling around the beautiful Lake Atitlán area. Experience the lake through a variety of speeds, angles and perspectives. Whether you are cruising on the crest of the caldera ridge, paddling the azure-blue waters of Atitlán, or hiking lakeside – you'll surely enjoy the fantastic views (and food!), and rest easy in one of the most beautiful hotels in all of Central America.
Details
$494 - $604 per person, depending on group size
Round trip *Private* transportation from Old Town Outfitters office in Antigua
Mountain bike, helmet, gloves and water bottle
Private Boat taxi to (and from) Hotel Casa del Mundo
Dinner, Breakfast & Lunch at Hotel Casa del Mundo
2 Nights Hotel Accommodation at Hotel Casa del Mundo
Kayak, paddle and life jacket from Jaibalito
Volcán San Pedro National Park Entrance and Access Fees
Full tour of Lake Atitlán by a local, bilingual guide with certified 1st-Aid training
Hiking shoes AND water shoes/sandals
Daypack with rain cover
Clothing for hiking and kayaking
Clothing for overnights in hotel
Rain jacket (May thru October)
Personal Toiletries and/or medications
Camera, Hat, Sunglasses & Sunscreen
1L bottle for water; Flashlight
TIP for great service from your Old Town Guide!
Our routes are subject to change depending on local conditions/restrictions and our guides discretion based on each group's skills
What to Expect
Day 1: MTB Ride
Meet at Old Town Outfitters Shop at 8:00 am where you can purchase any riding, paddling and hiking gear you might need. After meeting your guide and checking your gear, we load bags and bodies into our vehicle and set out for a 2.5-hour road trip up into the highlands towards Lake Atitlán. We'll stop on the road for a coffee and bathroom break at a quaint rest-stop outside the mountain town of Tecpán (breakfast not included).
Upon arrival to the lake highlands area, we unload bikes and cyclists and fit group members to their mountain bikes and gear. We give instructions on bicycle operation, safety tips, and a brief orientation of the surrounding terrain. Everyone has a chance to ask any questions they may have, apply sunscreen, and adjust clothing layers. We start out down a steep country road traversing the high tableland above Lake Atitlán. This mostly downhill ride takes you through several small villages and towns before rounding a final ridgeline and joining the road up from the Pacific coast bound for Panajachel.
At the first vista overlooking Lake Atitlán, your guide will stop and prepare a picnic lunch (included) and orientate you to the lakeside towns and geographic features of Lake Atitlán. After lunch, we'll continue breezing down the quick and windy road to the lakeside town of Panajachel. From here, we will catch a boat to Jaibalito, and the beautiful cliffside hotel Casa del Mundo.
Casa del Mundo Hotel - perched on a cliff - affords lake-front access alongside wonderful vantage points to appreciate the lake's volcanic backdrop. We'll check in mid-afternoon – and you'll be free to rest and relax in a hammock, enjoy the beautiful sunset, or go for a cool dip in the lake! A yummy family-style dinner (included) is served at the hotel restaurant around 6:30 pm.
Day 2: San Pedro Volcano
Breakfast and coffee (included) are served at 8:00 am, after which our group will depart in private boat taxi to the lakeside village of San Pedro Atitlán. We'll recruit a local pickup to bring us up to the San Pedro Volcano trailhead, and begin our full-day hike to the peak of San Pedro Volcano 9,908 feet (3,020 meters). After our 3.5-hour ascent through lush cloud forest – we arrive at a rocky outcropping that is the summit of Volcán San Pedro. A fresh picnic lunch (included) is provided for the group, which you can enjoy with views of the entire Atitlán highlands – and neighboring peaks Toliman and Atitlán across the Bay of Santiago.
Our descent back down to the lakeside will take us through the afternoon, arriving back to our Hotel in Jaibalito in the late afternoon. After a cool dip in the lake to clean our tired bodies, we'll have the evening to rest and enjoy the wonderful views and culinary delights (Dinner included).

Day 3: Kayak & Hike
Breakfast and coffee (included) are served at 8:00 am, after which you will gather what you need for our paddle and lakeside hike. Paddlers don their swimsuits, apply sunscreen and meet down at the dock to load into their kayaks. We leave our hiking daypacks with our private boat taxi and board our kayaks for the north-shore paddle.
We paddle westward 1½-2 hours past small towns and villages perched high on the steep sides of sheer ridges that rise right out of waters of Lake Atitlán. After passing the villages of Jaibalito and Tzununá we cruise into the bay of San Marcos la Laguna and trade our kayaks for our daypacks and hiking gear. Climbing out of town, we head back along the ridge that we paddled by earlier, with spectacular volcanic views offered up by the surrounding peaks of Volcanoes San Pedro, Tolimán, and Atitlán. After 1.5 hours of hiking, we roll back into Casa del Mundo where lunch is waiting (included), and head back by boat - and then vehicle - to Antigua where we arrive around 6:00 pm.


Elevation Map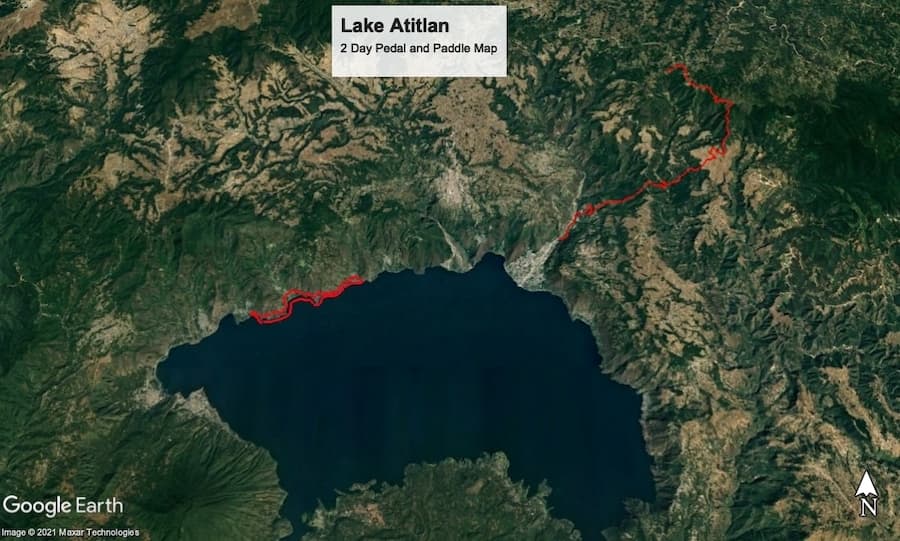 What Our Travelers Are Saying…
The tour was incredible! I loved biking through the little towns and seeing how the local people live.The lake is impressive and Casa del Mundo is breathtaking, especially with the view of the lake. The staff at Casa del Mundo is fantastic and the food is delicious. I drank two shakes in one day! I enjoyed hiking around the lake and walking through the different towns.
— Susan K. from New York, NY - TripAdvisor
Book Your Adventure
Choose your dates below, or join and existing trip and save with tiered pricing!
We work with a tiered pricing system, which means that the individual price per person depends on the total number of paying customers (or PAX) in the respective group. This allows us to operate without fixed departure days and required minimums. Joining existing trips is usually the best option for solo travelers, as this way we can offer a lower trip price from the start. You can see all our trips on the calendar of confirmed departures. You can keep track of the calendar to see if and which tours we still get going for your preferred trip dates. If you prioritize not making a commitment ahead of time and prefer to book on short notice, this would be the way to go.

That being said, you can of course start a new group yourself for your preferred trip date in order to get the ball rolling and hopefully have other people join over the coming weeks. If you prioritize securing the date and ensuring guide availability, choose this option. We usually charge a deposit of the respective 2-person trip price to get started. If more people join the group, the trip price will come down accordingly. Any resulting price difference we will of course refund you. In case nobody else joins, you would however have to be prepared to pay the full corresponding 1-person price in order for your trip to still go forward.
Select a date to view pricing.
Selected Date:
-
# of People
(1)
Price per Person: $
0
Total Price: $
0