La Ruta Maya Enduro: Antigua to Atitlan
3 full days of enduro riding connecting Antigua and Lake Atitlan
Gravity assisted single-track, Iximche Mayan ruins, Lake Atitlan!!
Vibrant Mayan culture and BIG landscapes
Overview
This 3 day itinerary follows old agricultural and trade routes of the Maya, connecting a variety of sights along the way. The riding here is technical, raw and unpolished; coupled with vibrant Mayan culture and a BIG landscape. This will for sure be unlike anywhere you've ridden before! Gravity assisted single-track, Iximche Mayan ruins, Lake Atitlan!!

Details
This is some of our favorite trails connecting two of our favorite riding areas. Big descents, epic backcountry singletrack and technical trail dropping into Lake Atitlan.
$629 - $799 per person, depending on group size
Round trip transportation from Old Town Outfitters office in Antigua
All food and lodging
Closed toe shoe
Daypack with rain cover
One warm layer and/or windbreaker
Rain jacket (May thru October)
Personal Toiletries and/or medications
Camera, Hat, Sunglasses & Sunscreen
Two liters of water (minimum)
Flashlight
TIP for great service from your Old Town Guide!
Our routes are subject to change depending on local conditions/restrictions and our guides discretion based on each group's skills
What to Expect
DAY 1: Iximche Enduro
Today's ride starts with a shuttle up to a small village just beneath Acatenango volcano at 2,500 mts. Volcanoes dominate the view as we tightrope down the ridge back to the valley floor. Trails criss cross the landscape as we pass through agricultural fields & villages. We'll finish up the morning at a shrine to a local Mayan spiritual diety, Maximon. A short shuttle takes us to the top of the mountains overlooking the ruins of Iximche. A series of steep technical trail offers up the first glimpses of Lake Atitlan and the ravines and valleys between. Our last descent drops us just outside of the Iximche Ruins. We'll take a guided tour of the site and then head off to the hotel for a earned rest.
DAY 2: Mayan Traverse
Our route follows the exodus of the Kaqchiquel to Lake Atitlán after the Spanish conquest. The lake is still alive with their culture and language. We will descend the infamous "sendero de las vacas" named after encounters with cows ascending the deep, switchbacking trail, bikers had to climb up to let the herd pass! At the top of a brutal 7km climb, we will get our first views of Lake Atitlán; an enormous volcanic caldera surrounded by 3 volcanoes. After a picnic lunch with a view we will descend the famous Santa Cat downhill trail famous for it's unique urban downhill through the town of Santa Catarina Palopó. We'll have a quick ride over to Panajachel to check-in to the hotel and enjoy the evening.
DAY 3: Atitlan Slickrock
Our shuttle up to high above the lake to nearly 3,000 mts give us views of the canyons and volcanoes around. We climb 5 kms on trail and the Atitlan slickrock to an area known as "El Corazon de las Nubes" a Mayan Ceremonial site. The ecology at this altitude in Guatemala is home to a unique mix of alpine grass, grazing sheep, and agave plants. We will follow rocky, technical singletrack through pine forests passing through small Mayan communities. After a picnic lunch and short shuttle we will continue our descent to Lake Atitlán on a 1,000 mtr downhille trail – the most technical of all the tour. Back in "Pana" as its locally known, we'll meet a our driver and head on back to Antigua… that is unless we've convinced you to extend your ride!
Trail Map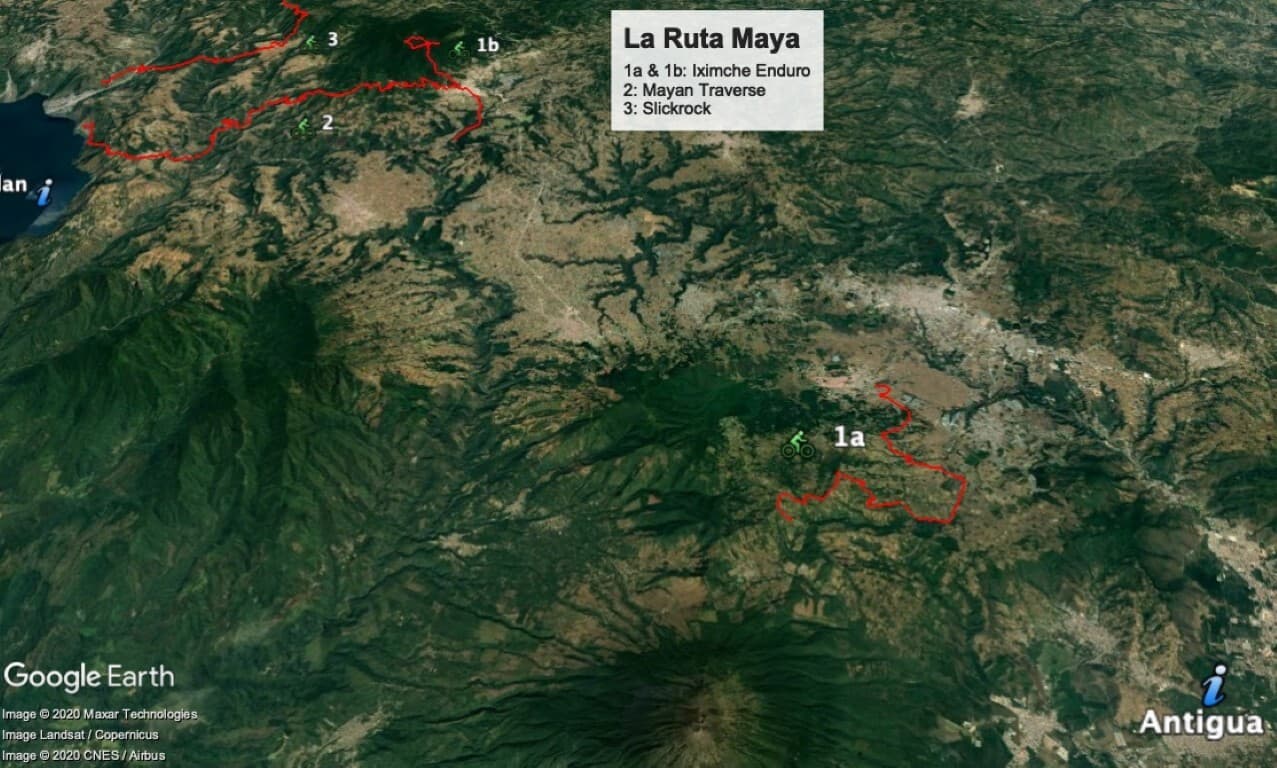 What Our Travelers Are Saying…
I learned that you need a guide when your in this country even if you have a gps and all the data that goes with your smart phone. Local knowledge is "invaluable"! I book with these guys every time I go to Antigua. They are a solid group from the owner Matt to guides Welber, Richie, Oseas. Last year I did Cielo Grande, Pillars of Heaven and El Zur. These are world class rides! This year I did a custom 3 day adventure tour to Lago Atitlan that included an amazing descent to Santa Clarita then another amazing descent down Slickrock to Pana... Old Town Outfitters is an awesome company and I can't wait to get back to Guatemala and have them show me some more of this amazing country.
— Roger B. from Healdsburg, CA - TripAdvisor