Golden Arches Lujo Ride
Ride doubletrack and singletrack through varied terrains and agricultural areas
Great views of Antigua, Volcán de Fuego and Acatenango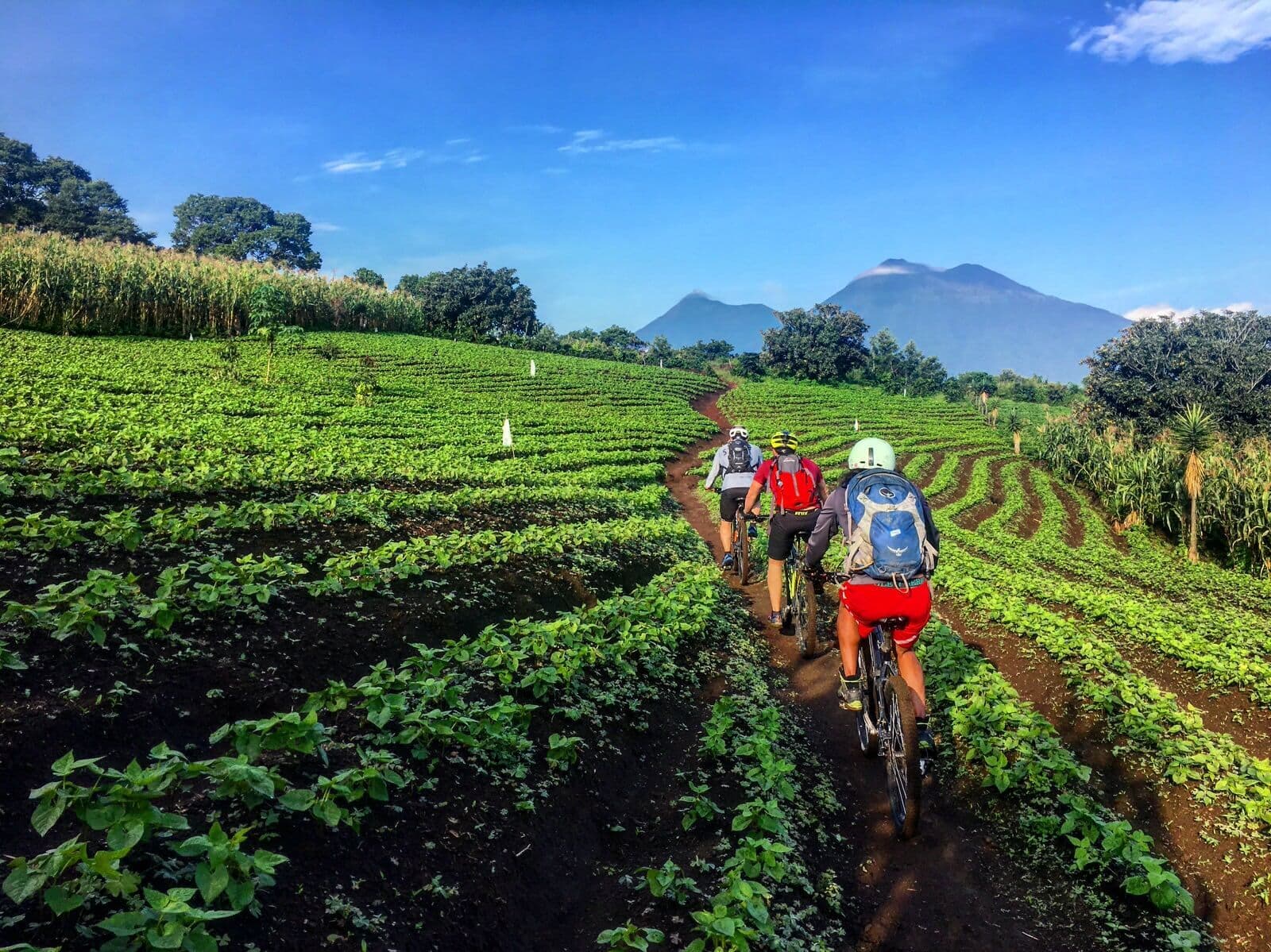 Book Tour Now
Overview
This mountain bike tour of Antigua and its surrounding farms is perfect for groups of varying skill levels.
Details
$56 - $85 per person, depending on group size
10 miles (16.5 kilometers)
Mountain bike
Helmet
Water bottle for you to keep
What to Expect
The trip begins at either 8:00 AM or 1:00 PM and departs from the Old Town Outfitters shop in Antigua.
We'll bike from Antigua on cobblestone and dirt roads towards Volcán Agua and San Juan del Obispo. We'll then bike ~45min up on trails and continue cross-country through the agricultural fields of corn, peas, the citrus nísperos, coffee and avocado trees. Traversing our way across the lower sections of Volcán de Agua will give you great views back to Antigua and the rest of the valley.
We then make our way to the downhill section that brings us back to civilization, popping back out in San Pedro las Huertas. From San Pedro, we'll cruise all the way back to Antigua.

Book Your Adventure
Choose your dates below, or join and existing trip and save with tiered pricing!
We work with a tiered pricing system, which means that the individual price per person depends on the total number of paying customers (or PAX) in the respective group. This allows us to operate without fixed departure days and required minimums. Joining existing trips is usually the best option for solo travelers, as this way we can offer a lower trip price from the start. You can see all our trips on the calendar of confirmed departures. You can keep track of the calendar to see if and which tours we still get going for your preferred trip dates. If you prioritize not making a commitment ahead of time and prefer to book on short notice, this would be the way to go.

That being said, you can of course start a new group yourself for your preferred trip date in order to get the ball rolling and hopefully have other people join over the coming weeks. If you prioritize securing the date and ensuring guide availability, choose this option. We usually charge a deposit of the respective 2-person trip price to get started. If more people join the group, the trip price will come down accordingly. Any resulting price difference we will of course refund you. In case nobody else joins, you would however have to be prepared to pay the full corresponding 1-person price in order for your trip to still go forward.
Select a date to view pricing.
Selected Date:
-
# of People
(1)
Price per Person: $
0
Total Price: $
0