Golden Arches Ride
Ride doubletrack and singletrack through varied terrains and agricultural areas
Great views of Antigua, Volcán de Fuego and Acatenango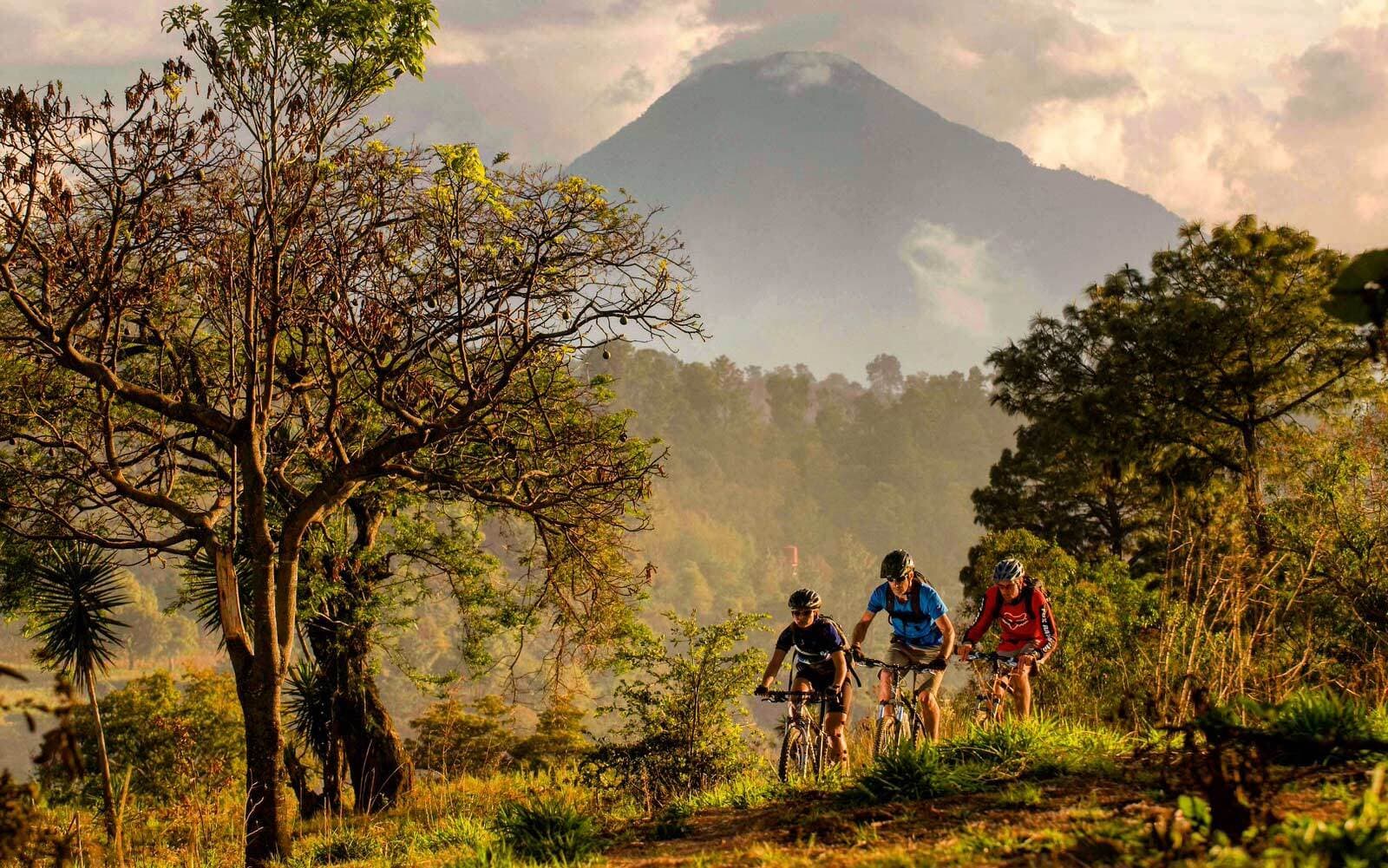 Overview
This mountain bike tour of Antigua and its surrounding ridgelines and farms is for those riders that are looking to add more distance, climbing, and, of course, rewarding descents.
Details
$56 - $85 per person, depending on group size
Mountain bike
Helmet
Water bottle for you to keep
Our routes are subject to change depending on local conditions/restrictions and our guides discretion based on each group's skills
What to Expect
This is a half-day ride that typically leaves at 9AM from Antigua.
We'll bike from Antigua on cobblestone and dirt roads towards Volcan Agua and San Juan del Obispo. We'll then bike ~45min up on trails and continue cross-country through the agricultural fields of corn, peas, the citrus nísperos, coffee, and avocado trees. After some nice traversing trail, we'll hit one more big push as we climb the slopes of the volcano. This brings us to our last long downhill technical section before popping back out in Ciudad Vieja. From there we'll follow the local roads back into Antigua.

What Our Travelers Are Saying…
My sixteen year old son and I spent several days in Antigua. We are cyclists here in the US and so we hit up Old Town Outfitters for a 1/2 day mountain bike tour. There were four of us on the "Golden Arches" tour with two guides- Ricardo and Oseas. The tour was rated Advanced and it was true to it's rating. We ride road bikes mostly here in California and do a good share of climbing but I was unprepared for the altitude in addition to the climbing in the hills outside of Antigua. It was challenging. The guides were very supportive and kept an eye out for the safety and well being of the riders. The pay off after all the climbing was some great views from the mountain and some thrilling downhill sections. It was technical enough to push the limits of my mountain biking skills. All in all it was a fun morning spent on the bikes. Ricardo and Oseas were excellent guides and if I have the chance I would love to go back and ride with them again.
— Dale M. from Napa, CA - TripAdvisor