Double Down Enduro Ride
Explore tight singletrack through lush evergreen forest and high elevation farms
Pass by the San Andres ruins, an earthquake-wrecked church from the 16th century
Technical sections include drops, switchbacks, and a half-pipe like aqueduct trail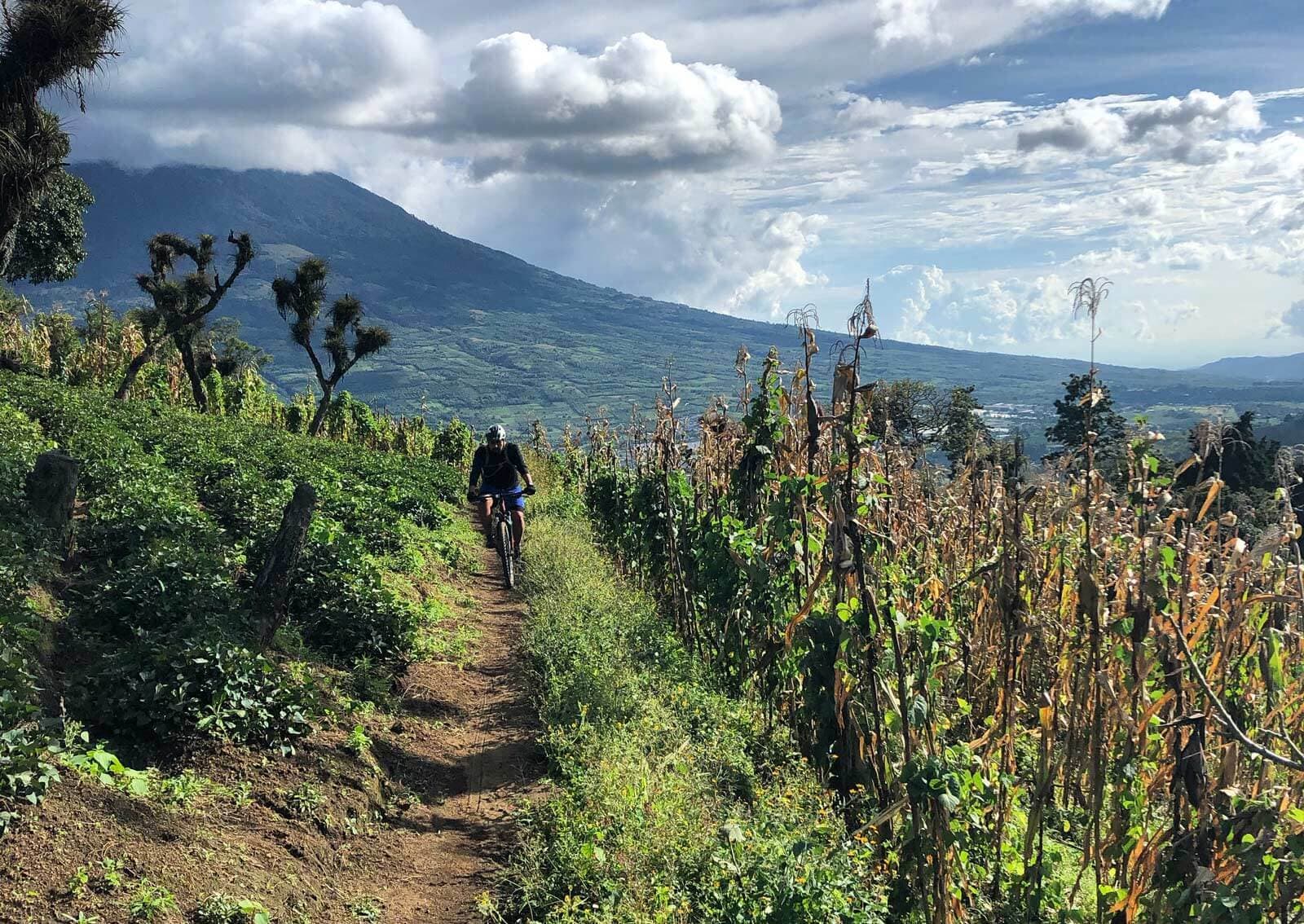 Book Tour Now
Overview
This ride is designed for downhill enthusiasts, you're going to get 6,200+ feet (1,895 meters) of descent! This is a downhiller's dream come true.
Details
$65 - $105 per person, depending on group size
Mountain bike
Helmet
Water bottle for you to keep
Shuttle up to the trailhead outside of Antigua
Our routes are subject to change depending on local conditions/restrictions and our guides discretion based on each group's skills
What to Expect
The trip starts at either 8:00 AM or 1:00 PM
This ride begins with a shuttle from our shop in Antigua up to the trailhead at 8,300 feet (2,600 meters) on the alpine slopes of Volcán Acatenango. After a brief climb, we begin a singletrack descent that follows agricultural trails along a dramatic ridge with large views of the surrounding volcanoes. The trail drops 2,500 feet (760 meters) of pure downhill! The soft volcanic soil is fast and flowy with little rocks; however, there are some steep technical sections and creek crossings.
At the base, we climb a 4x4 road through agricultural fields passing by the San Andres ruins, an earthquake-wrecked church from the 16th century. The climb follows a moderate grade until the final 656 feet (200 meters) of steep push. Don't worry, the next descent is worth the effort!
After passing through a lush forest you are rewarded with expansive views of 3 volcanoes and the Antigua valley as we descend down an ancient trail cut deeply into a ridge with large drops to either side. This final descent of 2,500 feet (760 meters) takes about 45 minutes to complete and is loaded with fun rocks, drops, switchbacks, and a half-pipe like aqueduct trail to finish the ride.

What Our Travelers Are Saying…
I had an amazing time on my rides with Old Town Outfitters. I did the double down enduro ride with Wily. Just wow - this ride is just what I needed to start my Guatemala vacation! Super fast and fun downhills - Wily's a great mountain biker so following his lines gave confidence for someone riding these trails for the first time. Also some fantastic views but much harder to see as we were ripping downhill, haha. I'd ride these trails over and over if I could.

Staff was all professional and friendly and my overall experience was excellent. I had a great time and plan on riding with you guys again.
— Kevin L. from Albuquerque, NM - TripAdvisor
Book Your Adventure
Choose your dates below, or join and existing trip and save with tiered pricing!
We work with a tiered pricing system, which means that the individual price per person depends on the total number of paying customers (or PAX) in the respective group. This allows us to operate without fixed departure days and required minimums. Joining existing trips is usually the best option for solo travelers, as this way we can offer a lower trip price from the start. You can see all our trips on the calendar of confirmed departures. You can keep track of the calendar to see if and which tours we still get going for your preferred trip dates. If you prioritize not making a commitment ahead of time and prefer to book on short notice, this would be the way to go.

That being said, you can of course start a new group yourself for your preferred trip date in order to get the ball rolling and hopefully have other people join over the coming weeks. If you prioritize securing the date and ensuring guide availability, choose this option. We usually charge a deposit of the respective 2-person trip price to get started. If more people join the group, the trip price will come down accordingly. Any resulting price difference we will of course refund you. In case nobody else joins, you would however have to be prepared to pay the full corresponding 1-person price in order for your trip to still go forward.
Select a date to view pricing.
Selected Date:
-
# of People
(1)
Price per Person: $
0
Total Price: $
0