Pacaya Lava Fields Bikepacking Route
Camp right in front of the active Pacaya volcano in a private farm
See Pacaya volcano and its lava flows
2 day 1 night bikepacking trip with huge volcano vies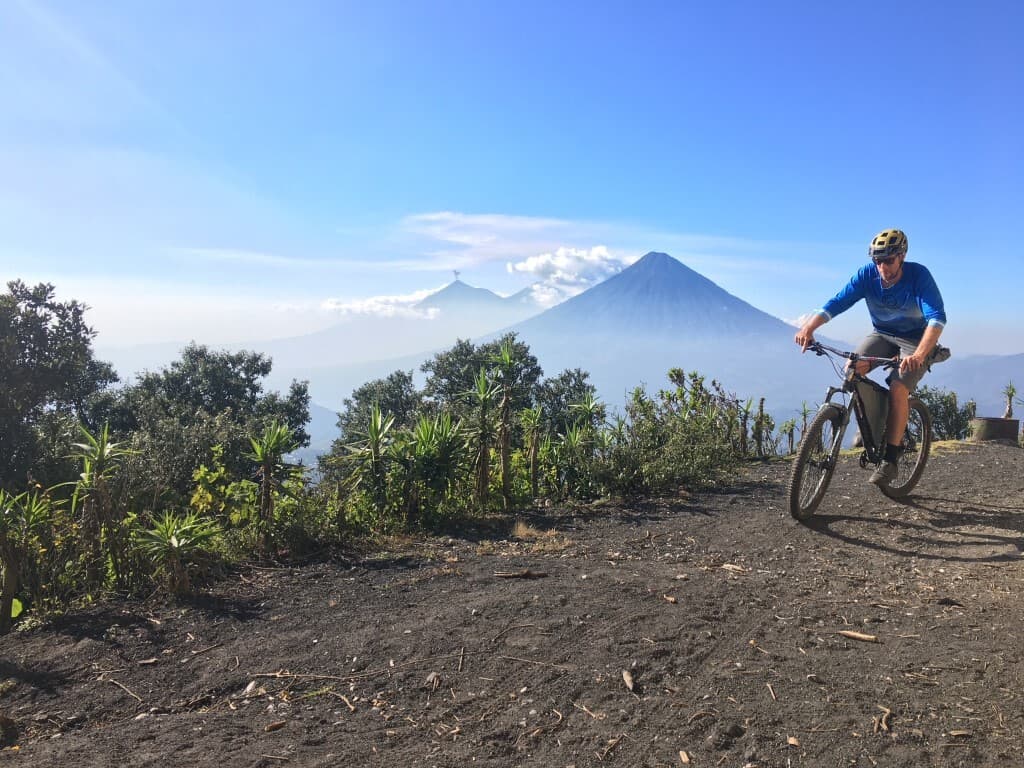 Overview
A great 2 day 1 night beginner / intermediate bikepacking route that makes a full loop around Pacaya Volcano. The ride is a mix of terrrain making it a great loop for those new or interested to try bikepacking. There are fun sections of rolling trail, some technical descents, dirt roads and even a bit of pavement.
We'll camp for the night in a private farm situated just kms. from the volcanic lava fields of Pacaya. Enjoy dinner under stars and have breakfast and coffee taking in the lava flows.
Details
See the volcano from every angle. If shes particularly active you'll get a show from every side.
$175 - $329 per person, depending on group size
Round trip transportation from Old Town Outfitters office in Antigua
All food and lodging
Hiking boots or trekking shoes (no sandals)
Daypack with rain cover
One warm layer and/or windbreaker
Rain jacket (May thru October)
Personal Toiletries and/or medications
Camera, Hat, Sunglasses & Sunscreen
Two liters of water (minimum)
Flashlight
TIP for great service from your Old Town Guide!
Our routes are subject to change depending on local conditions/restrictions and our guides discretion based on each group's skills
What to Expect
DAY 1: Calderas to La Escondida
Pacaya Volcano National Park is just about 1.5 hours east of Antigua. It is one of Guatemala's 3 active volcanoes. The ride today is the easier of the two days as from Calderas its mostly down hill or flat out to the farm where we will make camp for the night. There is a beautiful mix of rolling trail, some bumpy steep 4x4 roads through the old lava fields and some dirt road. The farm or Finca as they are called in Spanish where we will stay the night sits right in front of the national park. We will have the afternoon and evening to sit back and enjoy the view of Pacaya and hopefully see some lava. Even if there are no active flows you can typically see the glow fromthe summit. Views out to the west of active Fuego and Acatenango can also be seen. With some luck, they both will be blowing!
DAY 2: La Escondida to Calderas
What went down yesterday goes up today. Todays ride is much like yesterdays just in reverse. Its a steady climb from the campsite up and around the eastern side of the volcano. There are some paved sections in there and some amazing views of the volcano. Arriving back at the car we'll have some food and a cold beer waiting.
What Our Travelers Are Saying…
This bikepacking trip was truly unforgettable. It doesn't get much better than bikepacking around an active volcano. If you're looking for stunning views and interesting terrain, you're in the right place. Sometimes you're biking over volcanic rock and through old lava flows. Other times, you're smoothing down old dirt roads through small and oft-forgotten pueblos. Not only will the ride keep you entertained, the overnight stop is no slouch either. Its easy to forget about the world outside while taking in the views from camp and watching the sun dip behind volcanoes. The active lava flow on Pacaya is the most metal of all night lights. This trip is truly the best of Guatemala and I wouldn't do it with anybody but Old Town. As always, the guides were professional, kind, and knowledgeable. Packs were light, food was scrumptious, and the transport from Antigua was smooth, making this a rad, but breezy, two day adventure. Make sure to finish your trip with a few picositas, you deserve it. 10/10 would recommend to my closest friends.
— Michael W - Tripadvisor