Antigua Valley Day Hikes
Visit the town of Pastores, famous for its hand-made cowboy boots
Incredible views of the Antigua Valley and surrounding volcanoes
Hike through a working coffee Finca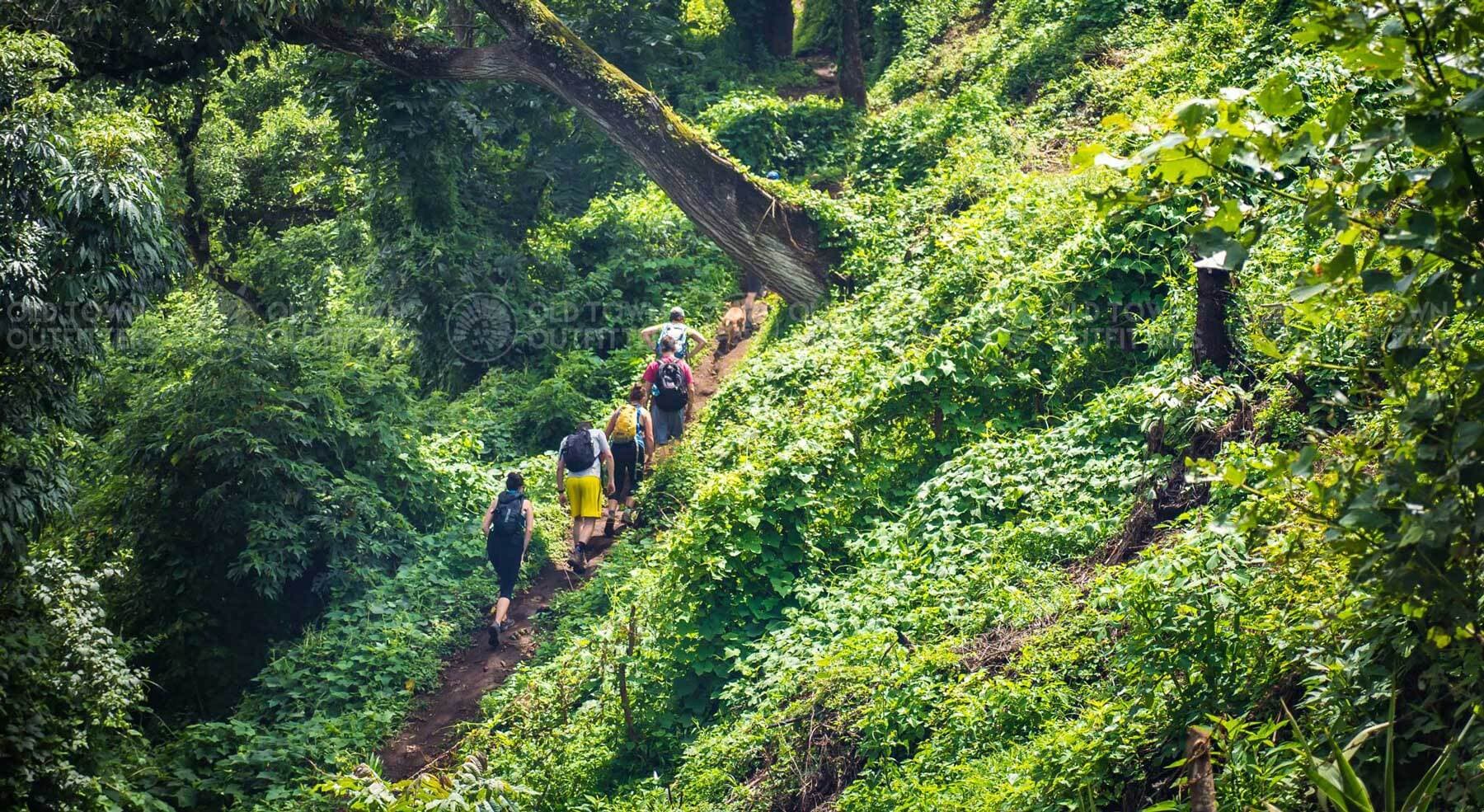 Book Tour Now
Overview
Chutes and Ladders El Hato Loop
A full day of moderate hiking that takes you climbing out of the Antigua Valley to the top of a nearby ridge. The trail traverses the ridge to a tiny pueblo hidden away on the mountainside. The views back towards the Antigua valley and its three towering volcanoes are magnificent as the entire sweep of the valley - from the peak of Agua Volcano to the Acatenango and Fuego complex - frame the vista. From there, the trail drops down into a working coffee Finca and then climbs into another lively mountain village. Another hour on beautiful contouring valley walls and then the trail takes you back into Antigua.

Boot Town Loop
A full-day moderate loop that leaves from Pastores, famous for its hand-made cowboy boots. The trail starts out gradually but soon turns steep to climb 1,640 feet (500 meters) out of town and onto a fertile ridgeline. We'll traverse the ridge for a while and yield to larger-than-life views of the Guatemalan backcountry. The trail then descends downhill through chutes and back to the valley floor.

Ciudad Vieja Ridge Loop
A full-day strenuous hike that climbs up one of Antigua's nearby ridges rewarding amazing views of the valley and surrounding pueblos before disappearing under the canopy of the old-growth forest. The trail hits its climax at "El Portal", one of the area's larger peaks, before making its way back down to the valley floor.
Details
$54 - $125 per person, depending on group size
Round trip transportation from Old Town Outfitters office in Antigua
Freshly Box lunch provided on the way
Full tour by a local, bilingual guide with certified 1st-Aid training
Hiking boots or trekking shoes (no sandals)
Daypack with rain cover
One warm layer and/or windbreaker
Rain jacket (May thru October)
Camera, Hat, Sunglasses & Sunscreen
Two liters of water (minimum)
TIP for great service from your Old Town Guide!
Book Your Adventure
Choose your dates below, or join and existing trip and save with tiered pricing!
We work with a tiered pricing system, which means that the individual price per person depends on the total number of paying customers (or PAX) in the respective group. This allows us to operate without fixed departure days and required minimums. Joining existing trips is usually the best option for solo travelers, as this way we can offer a lower trip price from the start. You can see all our trips on the calendar of confirmed departures. You can keep track of the calendar to see if and which tours we still get going for your preferred trip dates. If you prioritize not making a commitment ahead of time and prefer to book on short notice, this would be the way to go.

That being said, you can of course start a new group yourself for your preferred trip date in order to get the ball rolling and hopefully have other people join over the coming weeks. If you prioritize securing the date and ensuring guide availability, choose this option. We usually charge a deposit of the respective 2-person trip price to get started. If more people join the group, the trip price will come down accordingly. Any resulting price difference we will of course refund you. In case nobody else joins, you would however have to be prepared to pay the full corresponding 1-person price in order for your trip to still go forward.
Select a date to view pricing.
Selected Date:
-
# of People
(1)
Price per Person: $
0
Total Price: $
0