Antigua Sub 24 Bikepacking Loop
Sneak away to the Antigua hills for a night under the stars
Perfect intro into bikepacking
2 day 1 night bikepacking trip with beautiful Antigua valley and volcano views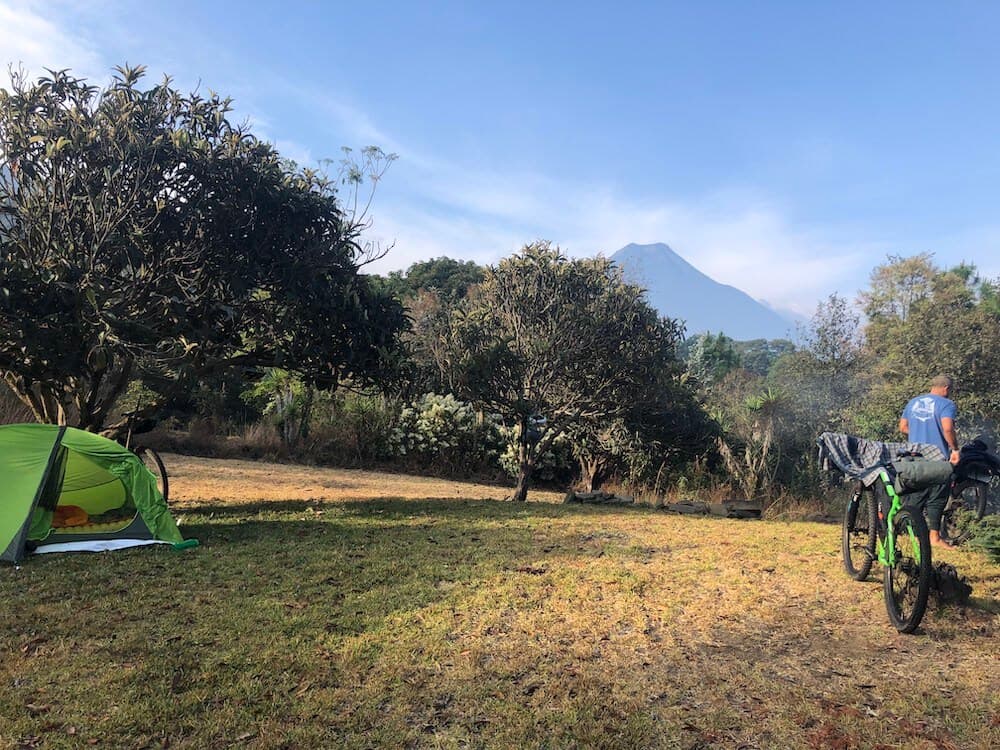 Overview
This is bikepacking 101! A sub 24 hour overnight trip into the hills above Antigua. We'll camp in a private farm high above Antigua with views of the city lights and Fuegos lava show!
Details
A great way to escape Antigua for the peace and quiet of the forest.
$125 - $200 per person, depending on group size
High quality bikepacking bike, bikepacking gear set up, all food and lodging
Closed shoes
warm layer and/or windbreaker
Rain jacket (May thru October)
Personal Toiletries and/or medications
Camera, Hat, Sunglasses & Sunscreen
Two liters of water (minimum)
Flashlight
TIP for great service from your Old Town Guide!
Our routes are subject to change depending on local conditions/restrictions and our guides discretion based on each group's skills
What to Expect
DAY 1: Antigua to Campsite
We will meet at our office just after lunch to go over packing and all things essential as they pertain to packing up a bicycle to ride into the woods for a camping trip. We will outfit our bikes and set off on our trip. There is a pretty healthy ride up into the hills from the shop. Don't worry we have all day to ride to our campsite overlooking the valley and volcanoes below. Arriving to our private campsite in late afternoon we will unpack, set up camp and get the camp fire going. Although we are riding on bikes doesn't mean we have to skimp on the amenities. Our guide(s) will prepare a fresh delicious campfire meal while you take in the views. We'll spend the rest of the night enjoying the night time valley views and spin yarns over the camp fire.
DAY 2: Campsite to Antigua
After a great cup of coffee and big breakfast we'll take a leisure morning to break down our camp and get our bikes packed up. Although this is a 101 course in bikepacking it doesnt mean we won't ride some epic trails and singletrack back down to the valley and civilization below. Beers on us at HQ when we get back!
What Our Travelers Are Saying…
This bikepacking trip was truly unforgettable. It doesn't get much better than bikepacking around an active volcano. If you're looking for stunning views and interesting terrain, you're in the right place. Sometimes you're biking over volcanic rock and through old lava flows. Other times, you're smoothing down old dirt roads through small and oft-forgotten pueblos. Not only will the ride keep you entertained, the overnight stop is no slouch either. Its easy to forget about the world outside while taking in the views from camp and watching the sun dip behind volcanoes. The active lava flow on Pacaya is the most metal of all night lights. This trip is truly the best of Guatemala and I wouldn't do it with anybody but Old Town. As always, the guides were professional, kind, and knowledgeable. Packs were light, food was scrumptious, and the transport from Antigua was smooth, making this a rad, but breezy, two day adventure. Make sure to finish your trip with a few picositas, you deserve it. 10/10 would recommend to my closest friends.
— Michael W - Tripadvisor