Acatenango Volcano Day Hike
Witness the fireworks show from nearby and very active Volcán Fuego
Enjoy panoramic mountain views from the summit
Experience 4 distinct microclimates as you traverse the mountain paths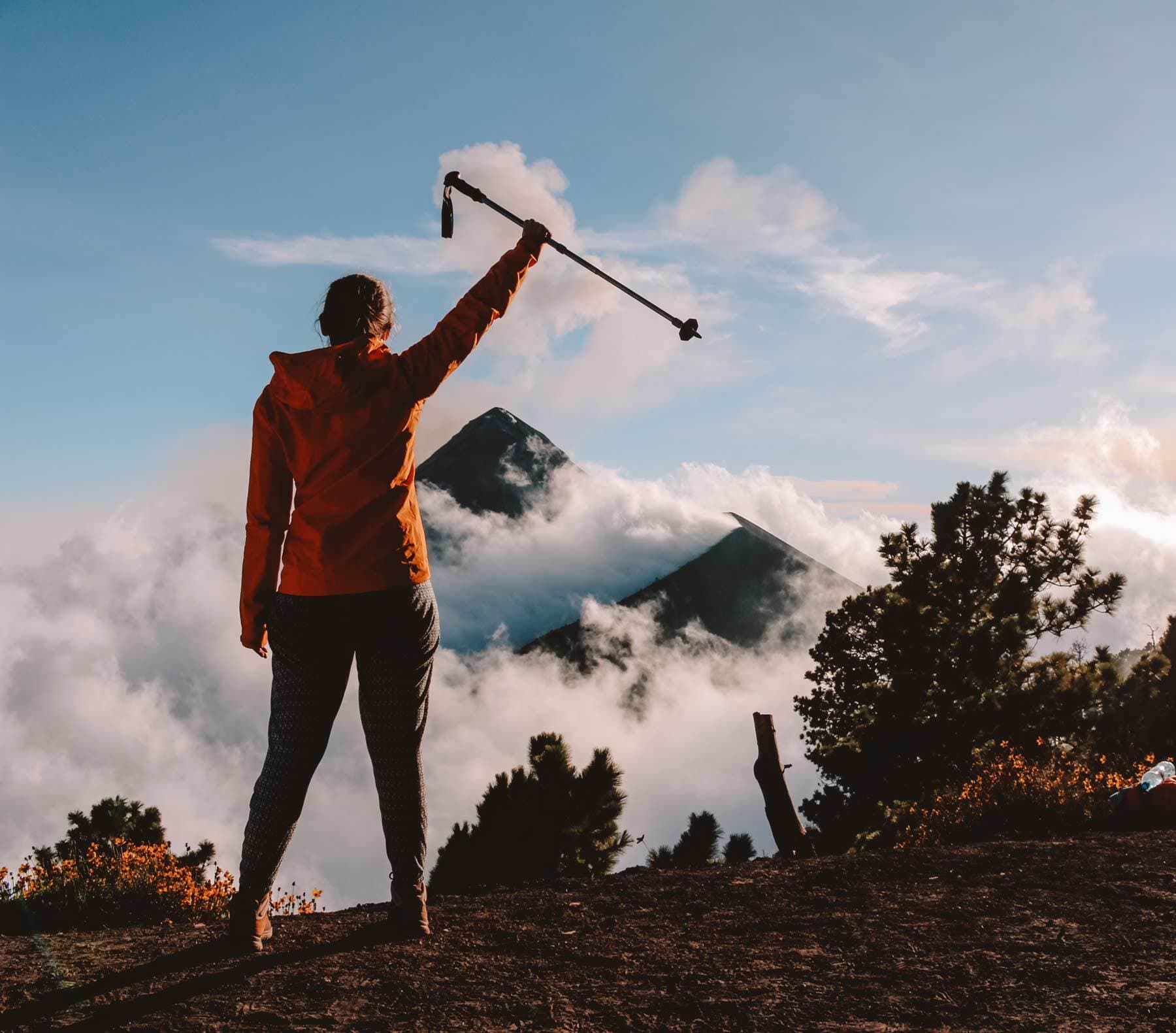 Book Tour Now
Overview
This Acatenango day hike is quite the climb, especially to do in a single day, but the panoramic mountain views and nearby eruptions of Fuego volcano make it all worth it.
Details
$80 - $170 per person, depending on group size
*$25/day Porter Service Fee
*OTO does NOT earn a profit on this service. Porter Service charges go directly to local porter staff in the community of Soledad.
Round trip transportation from Old Town Outfitters office in Antigua
All park entrance fees + local guide from the community of La Soledad
Freshly prepared picnic lunch
Full tour of Volcano Acatenango by a local, bilingual guide with certified 1st-Aid training
Hiking boots or trekking shoes (no sandals)
Daypack with rain cover
One warm layer and/or windbreaker
Rain jacket (May thru October)
Personal toiletries and/or medications
Camera, hat, sunglasses & sunscreen
Two liters of water (minimum)
Flashlight
TIP for great service from your Old Town guide!
What to Expect
Our group leaves from the Old Town Outfitters Shop at 5:00 am. Hikers should eat breakfast beforehand and pack a small snack for the road and make sure they have enough water for the day trip. A one-hour drive takes us from Antigua to the sleepy mountain village of La Soledad, perched on the ridge of the Pacific slope of Volcan Acatenango.
The trail up Volcán Acatenango has four distinct microclimates, each of which will take you about an hour to traverse. We'll begin by walking up a steep trail through local farm fields - the same trail used by local villagers each morning to access their corn, snow pea and lily fields. Our first hour of hiking will help you acclimatize and warm up the leg muscles for the day's hike. The second phase of our ascent passes through an old-growth tropical cloud forest. In this environmental zone, we find some of Acatenango's oldest trees, an incredible biodiversity of flora and fauna, fresh mountain air and the sounds of local birds and wildlife. This type of high-alpine cloud forest is found on the upper slopes of many of Guatemala's tallest volcanoes and mountains and is home to the famous Quetzal. After exiting the cloud forest, we will be rewarded with fantastic views of the other highland volcanoes (Atitlán, Toliman, San Pedro, Santa Maria, Santo Tomas, Tajamulco), along with glimpses of the Cuchumatanes Mountain chain.

Temperate coniferous forest and tropical dry forest characterize the 3rd phase of our ascent, which will lead us to the storm-beaten tree-line of the volcano. Our last section of the ascent is sand and gravel scree-trail dotted with dwarf pine trees and high alpine mosses. As we approach the summit, we find the exposed rocky surfaces left by the gusty and cold winds which constantly pass over Acatenango's peak.
At the summit, your guide will prepare a fresh, well-earned picnic lunch while you rest and enjoy unparalleled 360-degree views of the Guatemalan highlands. Atop the summit, we will also fix our attention on nearby and constantly erupting Volcán Fuego. With a bit of luck, Fuego will put on a high-altitude firework show, displaying violent explosions of gas, rock, and lava.
After 30min-1hr at the top (depending on conditions and time considerations), the group will begin the 3-hour descent back towards La Soledad. Our group has the opportunity to descend through an alternate route down Volcan Acatenango, experiencing a variety of microclimates and a beautiful trail. From La Soledad, we will transport back to Antigua, arriving in the afternoon with plenty of time for you to enjoy the delights of the old Spanish colonial capital.

Trail Map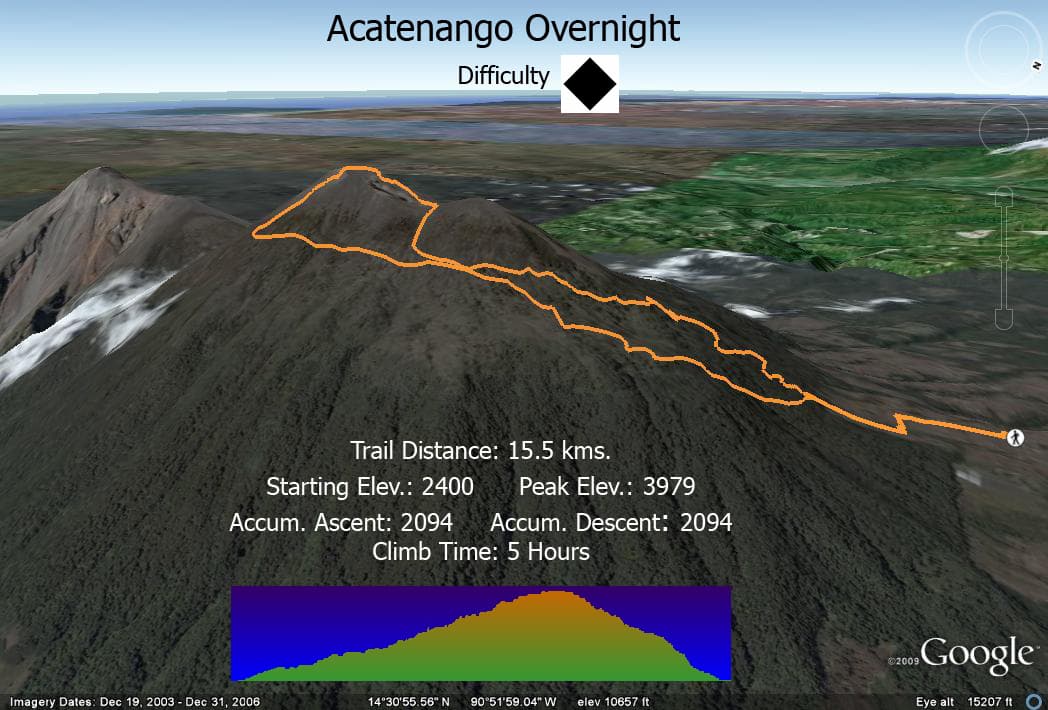 What Our Travelers Are Saying…
I cant praise the team of Old Town Outfitters enough. What a magical experience is was, all around. Sebastian was the most cheerful and motivating guide someone could wish for. Knowledgeable and always uplifting attitude. Thank you everyone! I will never forget my stay in Guatemala.
— Stefanie J. - TripAdvisor
Book Your Adventure
Choose your dates below, or join and existing trip and save with tiered pricing!
We work with a tiered pricing system, which means that the individual price per person depends on the total number of paying customers (or PAX) in the respective group. This allows us to operate without fixed departure days and required minimums. Joining existing trips is usually the best option for solo travelers, as this way we can offer a lower trip price from the start. You can see all our trips on the calendar of confirmed departures. You can keep track of the calendar to see if and which tours we still get going for your preferred trip dates. If you prioritize not making a commitment ahead of time and prefer to book on short notice, this would be the way to go.

That being said, you can of course start a new group yourself for your preferred trip date in order to get the ball rolling and hopefully have other people join over the coming weeks. If you prioritize securing the date and ensuring guide availability, choose this option. We usually charge a deposit of the respective 2-person trip price to get started. If more people join the group, the trip price will come down accordingly. Any resulting price difference we will of course refund you. In case nobody else joins, you would however have to be prepared to pay the full corresponding 1-person price in order for your trip to still go forward.
Select a date to view pricing.
Selected Date:
-
# of People
(1)
Price per Person: $
0
Total Price: $
0