Local's Guide to the 12 Best Restaurants in Antigua Guatemala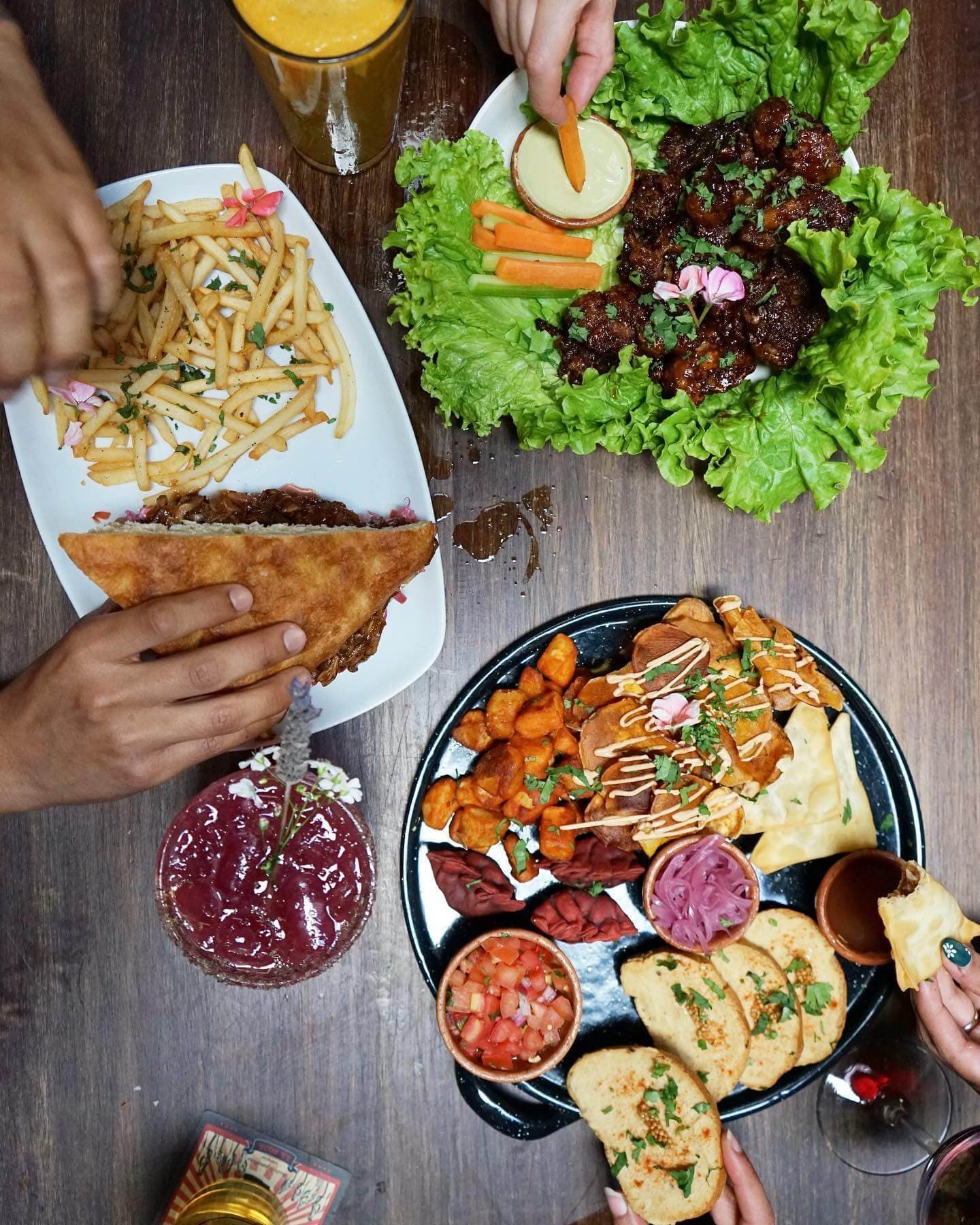 If you find yourself visiting our lovely town of Antigua, Guatemala, know this: the culinary options and experiences will not disappoint. Antigua, Guatemala is brimming with great restaurants peppering its cobblestone streets. Not only will you find local cuisine options serving our famous Antigua tamales, but you'll also discover Antigua is host to international flavors including Italian, Japanese, French, German, and more.
Old Town Outfitters has been operating in downtown Antigua for almost 25 years and many of our guides are born and raised here. Suffice it to say, we've been dining in Antigua for a long time. So allow us to offer the local's take on the top restaurants in Antigua that are sure to please your palate during your next visit.
Traditional Guatemalan Restaurants
Guatemalan cuisine traditionally includes corn, tortillas, bean, rice, and meats like pork, chicken, and beef. While there is no official national dish of Guatemala, the closest thing is probably Chicken Pepian, a chicken stew that merges Spanish and Mayan flavors cooked in a spicy sauce with pumpkin seeds and sesame.
Don't forget to top off any meal with a cup of coffee. Guatemala has hands-down the best coffee in the world. You can also book a cultural tour with Old Town Outfitters to visit some of the working coffee farms in the area.
Hector's Bistro. An Antigua establishment for more than a decade. What started as a buddy's (Hector) word-of-mouth restaurant without a name or sign has come to define small, quaint, well-thought-out dining in Antigua. Don't miss the original Antigua open-faced steak sandwich and sweet potato fries! Bonus, "El Deposito" taproom shares the space so tasty beer is at your fingertips.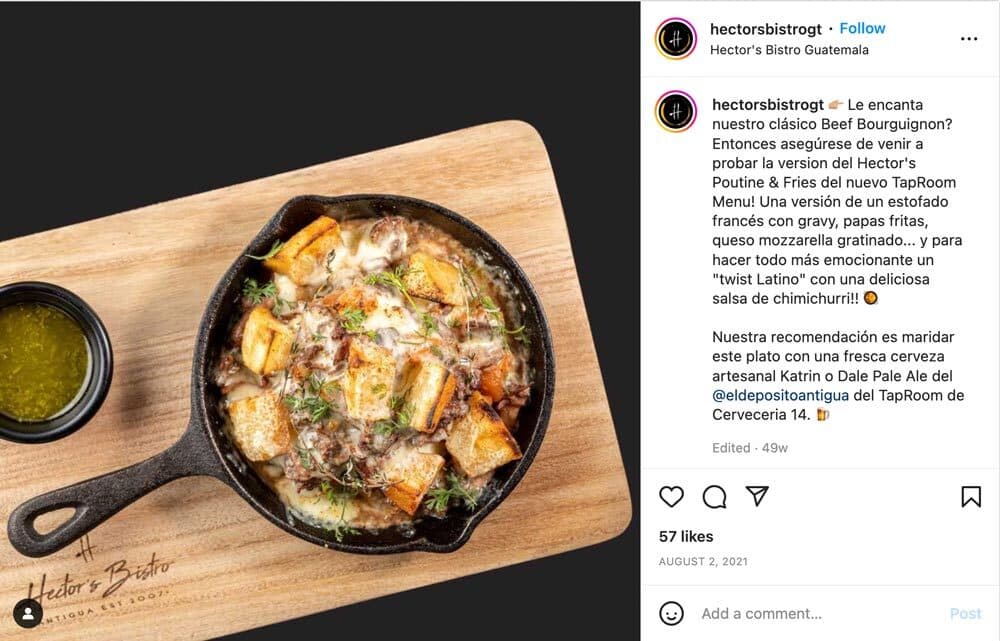 Rincon Tipico Comedor. This local restaurant has grown over the years from a closet-sized lunch spot to a sizable dining room that accommodates large groups. There is a reason they've grown over the years, they offer good portion plates at a super affordable price. Ask for the day's options and then choose your meat and two sides. My suggestion: start with a side of guacamole and chips for your table – hard to go wrong there!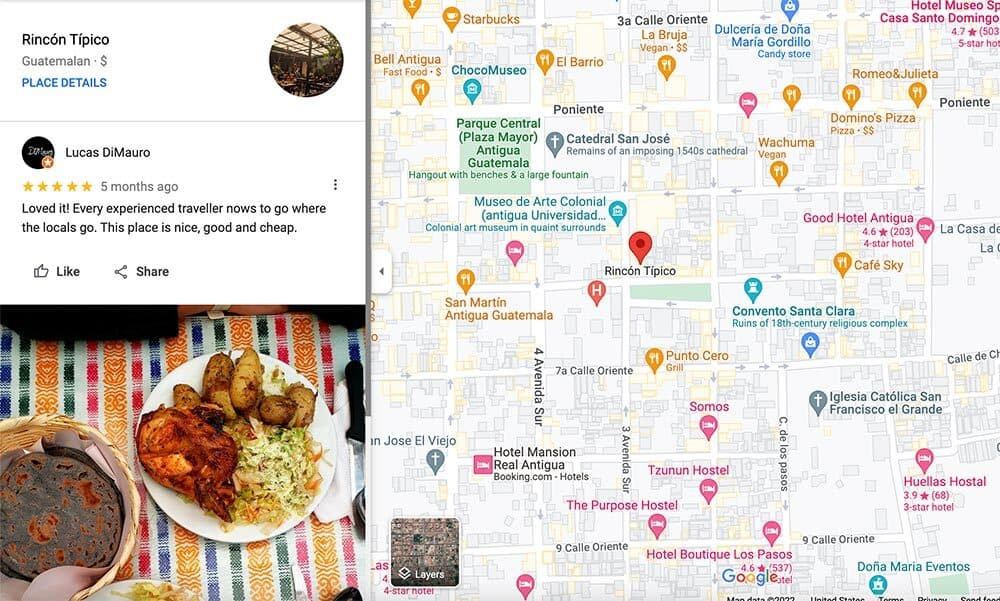 ‍
Quincho's Ceviches. Starting Friday afternoon through the weekend you can be sure to catch someone you know at this popular ceviche restaurant fighting off last night's fun with a famous 'picosito' (Antigua style prepared beer) and shrimp ceviche.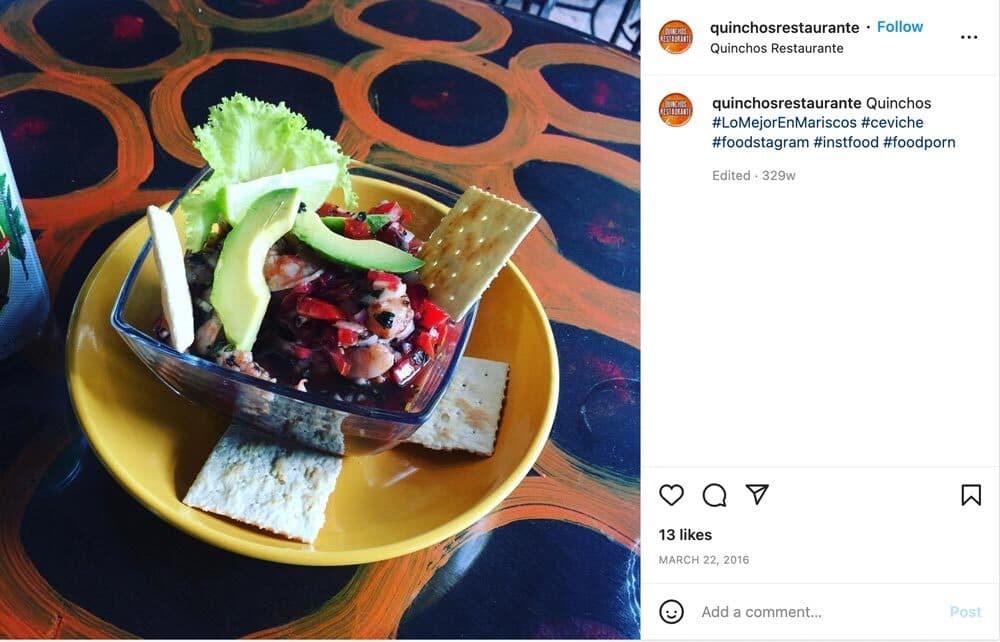 Saberico. If you like choices, get a load of their extensive menu. Even vegetarians may have a hard time deciding, which is usually not a problem they encounter in Guatemalan restaurants. Also great: the selection of comida típica. Try the authentic Guatemalan enchilada, you'll see that it is a far cry from the Mexican variety!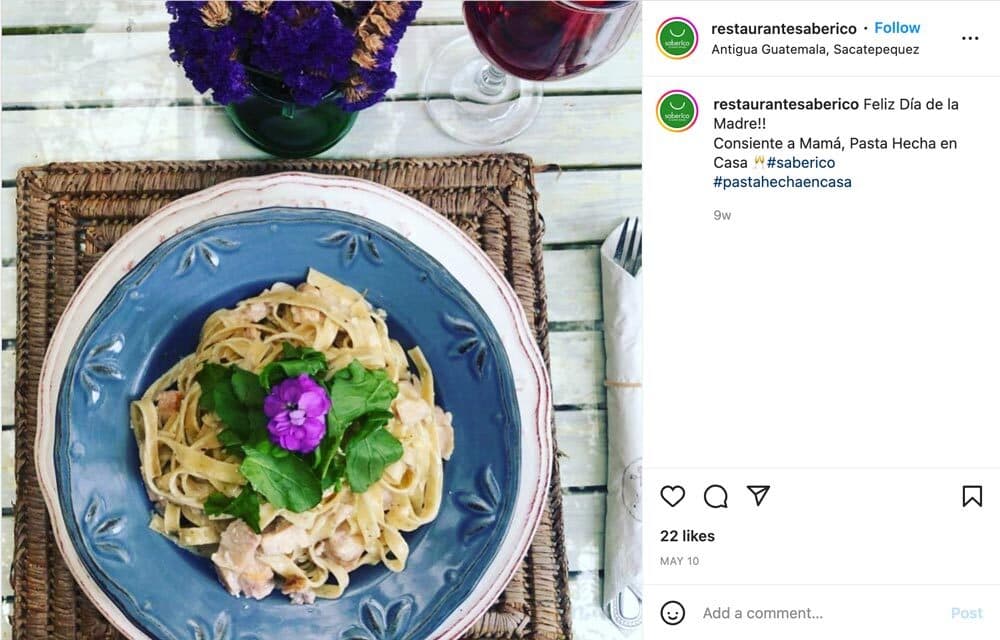 Vegan and Vegetarian Restaurants in Antigua, Guatemala
Although meat is pretty prominent in Guatemalan cuisine, there are plenty of restaurant options for vegans and vegetarians in Antigua. Popular fresh fruits and vegetables include yucca, carrots, plantains, celery, cucumbers, and radishes.
Once Once Restaurant. This vegan restaurant attracts everyone, not just vegans. They have a wide variety on the menu and it's easy to order several plates and share with friends. Our favorites are the spring rolls, cauliflower wings, and tacos. Don't skip dessert, the chocolate and carrot cake are worth it!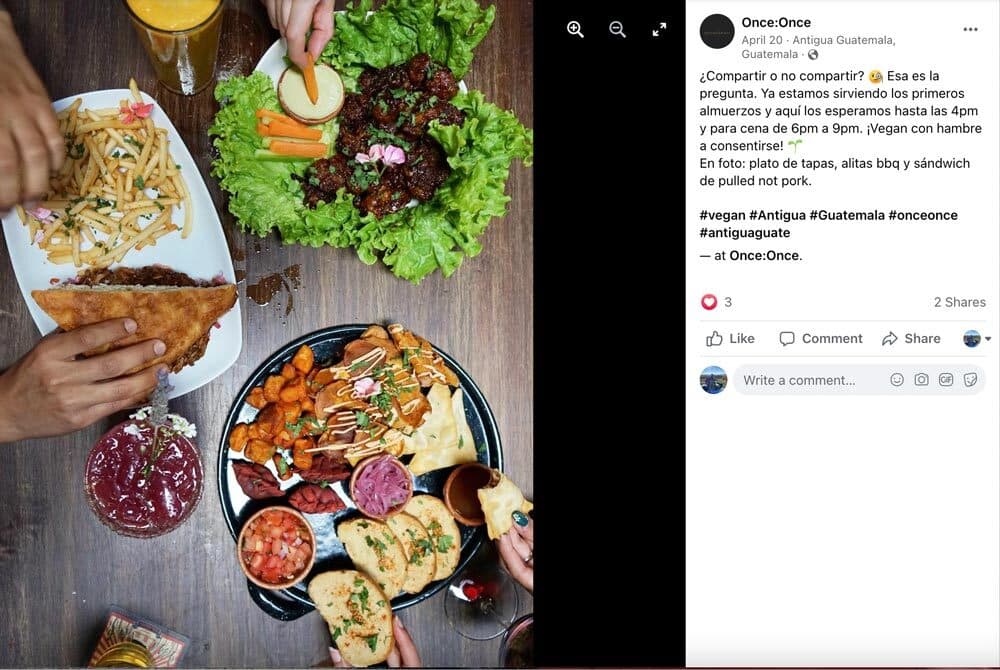 Pitaya Juice Bar. Fresh fruit smoothies (licuados) are popular throughout Guatemala, Pitaya serves some of the best I've found so far. They also have a simple menu of fresh, healthy, and affordable breakfast and lunch options. Our recommendations are the Fresca Pasion smoothie and the Chipotle wrap.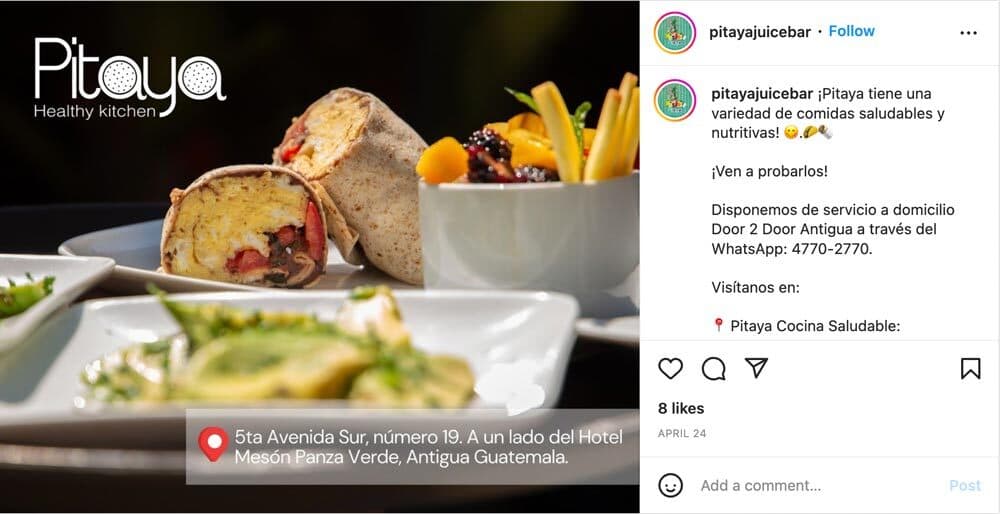 International Dining Options
Antigua, Guatemala is a prime destination for outdoor adventures. That means we host visitors and ex-pats from all over the world, and the restaurant scene reflects our multicultural influences.
Cactus Grill. Mexican style tacos, cold Mexican beers, and margaritas! Need I say more? Some of the best guacamole in town and do not pass up the Shrimp and Bacon burrito!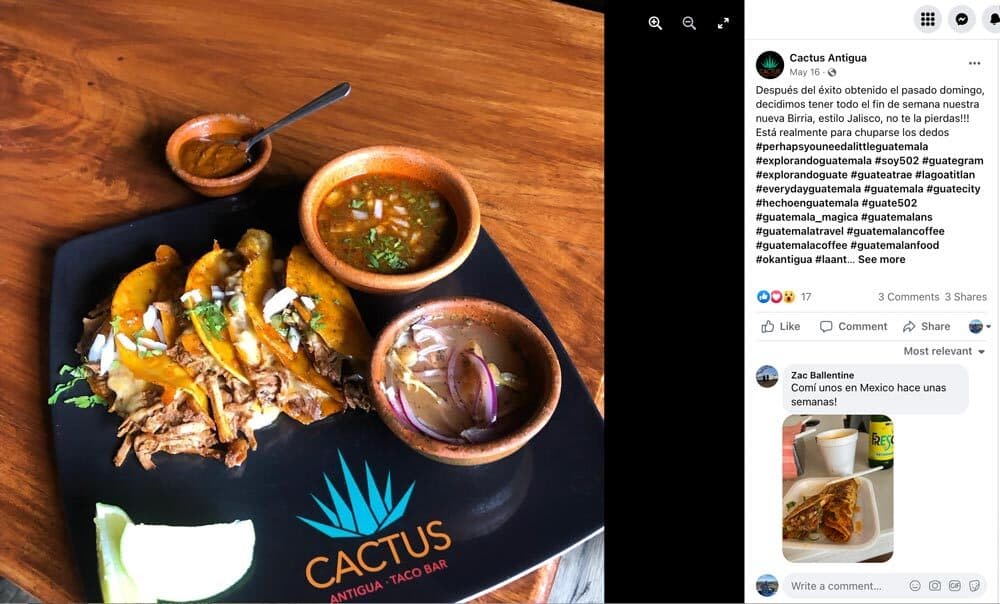 Restaurante Fridas. This Mexican restaurant is an Antigua landmark and has been whipping out amazing food and drinks since 1995. It is a favorite among travelers and locals alike. Don't miss the upstairs lounge/bar for after-dinner drinks. Our recommendations are, of course, the tacos with your choice of meat. The house margarita is also the best in town!
Kombu Ramen Shop. Newer than some of the other restaurants you'll see on this list, but already becoming a town favorite. The owner lived and trained in Japan so you can be sure the food is made with authentic recipes that won't let down. Our recommendation is to go with the spicy ramen and a side of gyoza dumplings.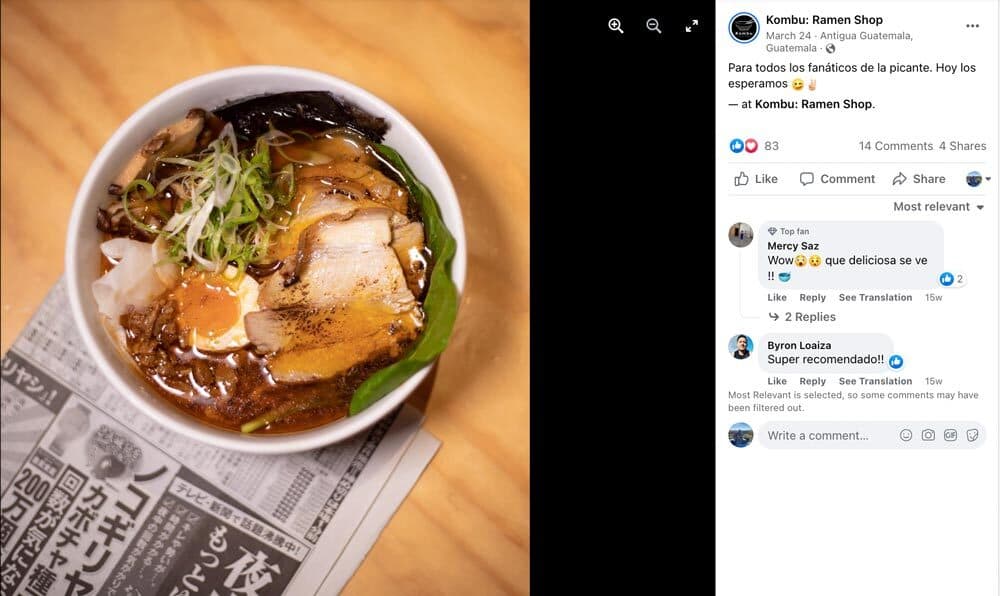 Angie Angie CafeArte. This is a fun place to visit with a mix of Mediterranean and Argentinian cuisine. The atmosphere is great with live music, a beautiful garden, and a large fire pit in the garden. Local tip, 2x1 pizza on Sundays!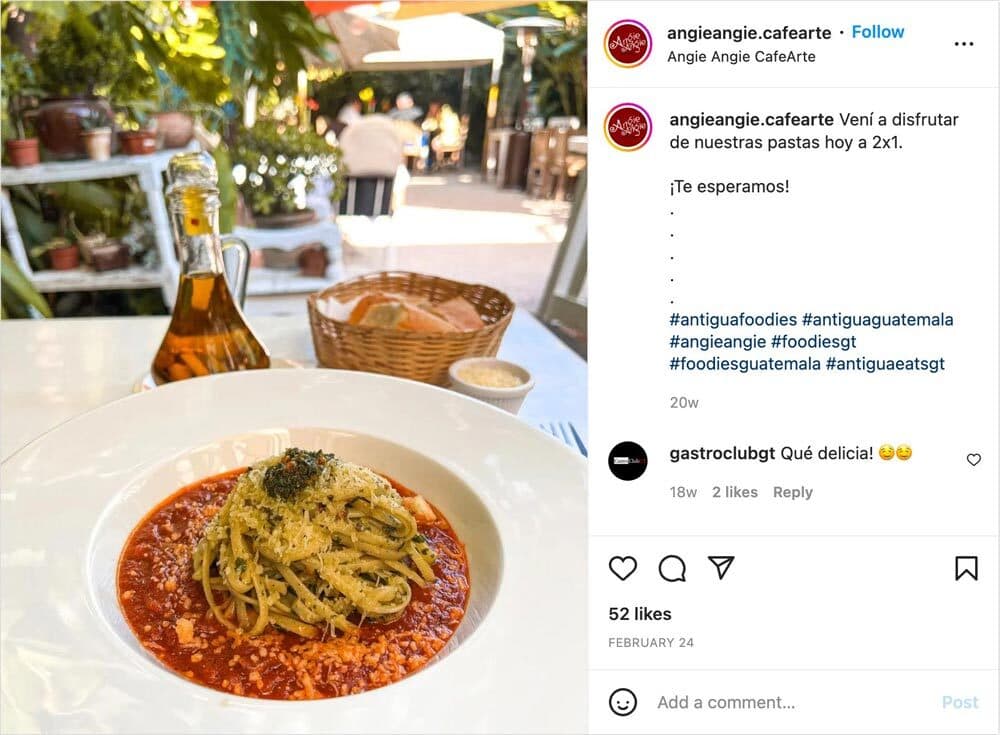 Café Boheme. Look no further for great pastries and savory treats. This tiny café has lots of character and will make you feel like you're enjoying a Parisian afternoon—definitely a great option for breakfast and lunch.
Drinks and Dives in Antigua
After a long day hiking Acatenango Volcano, mountain biking the foothills, or visiting area coffee farms there's nothing better than a cold beer.
Por Que No? Café. This is the quintessential "dive bar" restaurant that you'll fall in love with as soon as you walk in the door. Locally owned and operated by Carlos and Carolina, they have created a special atmosphere with feel-good food and drinks. There are only a few tables but hang out downstairs and make some friends while you wait.